YASE is on hold during the pandemic
Please contact Trenne Fields with any questions about the future of YASE.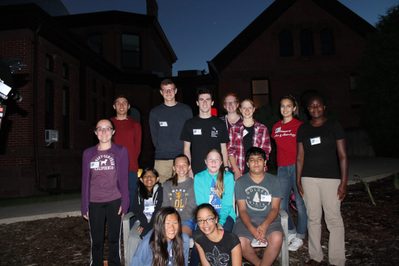 What is YASE?
The Young Astronomers Summer Experience was started in 2009 by Carleton student Jenny Goetz. It is a free two-week summer program that takes place in July at Carleton College's Goodsell Observatory. The program is open to students going into sixth, seventh, and eighth grades who are interested in learning more about astronomy and the night sky. The program meets on weekday nights from 8:30 PM to 11:30 PM, as the sky does not get dark enough in the summer to observe any earlier.
Outdoor Observing and Imaging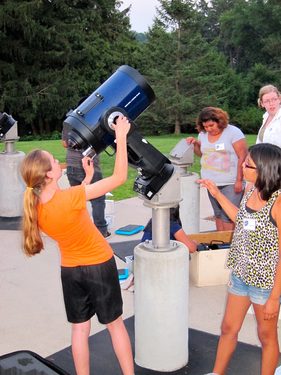 During the program, students will learn how to identify summer constellations and use Carleton's 8" Meade reflector telescopes to find stars, planets, and celestial objects. Students will then learn to use CCD cameras to image their favorite celestial objects. We will also have observing sessions with Carleton's 16" refractor telescope. Some images taken by former YASE students can be seen in the right sidebar (click to enlarge).
Exploring Astronomy
We will have short lessons each day covering different topics in the field of astronomy. Topics include how telescopes work, CCD cameras and astronomical imaging, light pollution, the evolution of stars, stellar spectra, the sun and solar system, and black holes, along with any other topics the students wish to learn more about.
On cloudy or rainy nights, students will learn to use the computer program Voyager to learn more about the night sky and the motion of the stars. We will be making spectroscopes with students and conducting indoor and outdoor activities related to the day's lesson. We will also have many astronomy-themed games to play throughout the two weeks.
Parent Night
The last evening of YASE will be a family open house for students to show their family members what they've learned on the telescopes, as well as their images. Students will give short group presentations about one of the celestial objects they have imaged.