Images by Margaretha Warnicke and Michele Nichols, Spring 1997

These images of the moon were not all taken on the same night. In one of these images, the moon is only 8 days old and in its first quarter. Starring in the other four images is a slightly older moon (12 days) in its waxing gibbous phase. Can you guess which ones are which?
---
Mare Imbrium/Sinus Iridium
#5 of 5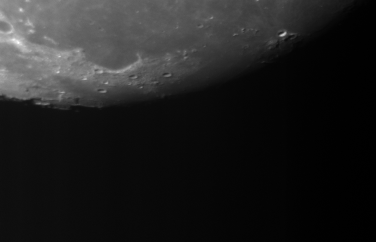 This image of the other side of the Mare Imbrium includes the triangular Sinus Iridium. Also taken on October 23, 1996 with a blue filter at 0.01 seconds, this image completes our selection of moon images. Undoubtedly we were using our dew-protector as this image of the twelve day old moon came out quite clearly, unlike the images of M57 we took this past weekend. Unfortunately, in these images, the ring nebula looks more like its ghost than its usual striking self.
23 October 1996