Images by Margaretha Warnicke and Michele Nichols, Spring 1997

These images of the moon were not all taken on the same night. In one of these images, the moon is only 8 days old and in its first quarter. Starring in the other four images is a slightly older moon (12 days) in its waxing gibbous phase. Can you guess which ones are which?
---
Mare Imbrium/Crater Plato
#4 of 5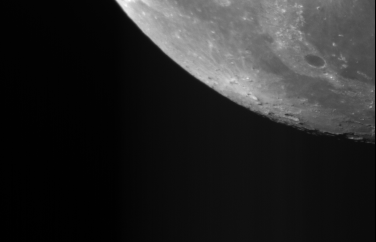 Unbeknownst to us when we took this image of the 12 day old moon, we captured a crater named after one of the most well-known philosophers of all time. Also a result of our first endeavor with the CCD camera on October 23, 1996, this image was taken with a blue filter at 0.01 seconds. As we did not yet know, (or maybe understand), why we would have wanted to take green and red filtered images, our unintended tribute to a great philosopher remains black and white.
23 October 1996