Images by Margaretha Warnicke and Michele Nichols, Spring 1997

These images of the moon were not all taken on the same night. In one of these images, the moon is only 8 days old and in its first quarter. Starring in the other four images is a slightly older moon (12 days) in its waxing gibbous phase. Can you guess which ones are which?
---
Mare Crisium
#2 of 5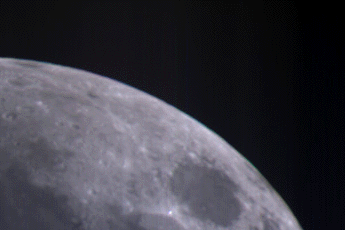 Michele and I took this image of the moon on May 14, 1997, a surprisingly cold and blustery day. As I was freezing, I did not have the patience to wait for us to get the camera perfectly focused. Nevertheless, it is a good image of the Mare Crisium of the 8 day old moon. We took three individual pictures of the moon using red, green and blue filters for 0.01 seconds each. Then we merged them to obtain this beautiful recollection of our cold spring nights here in Minnesota.
14 May 1997