Images by Margaretha Warnicke and Michele Nichols, Spring 1997

These images of the moon were not all taken on the same night. In one of these images, the moon is only 8 days old and in its first quarter. Starring in the other four images is a slightly older moon (12 days) in its waxing gibbous phase. Can you guess which ones are which?
---
Mare Fecundatis/Crater Goclenus
#1 of 5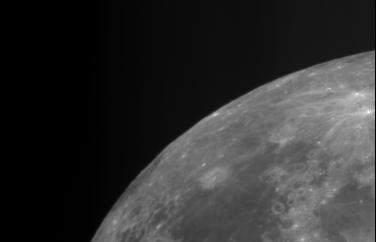 We took this image on moon on October 23, 1996, our very first time using the CCD cameras. The night started out auspiciously for us because our viewfinder would not work, and thus made it difficult for us to know exactly what we were observing. Originally, we took blue, green and red filtered images of this view of the moon, all at .01 seconds. Unfortunately, our red-filtered image somehow became corrupted, so we have decided to post the blue filtered image of the 12 day old moon all by itself.
23 October 1996