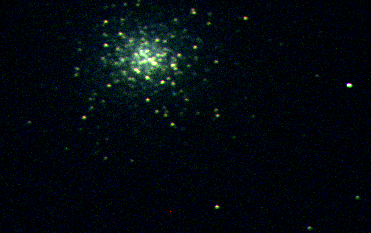 So, we had our Meade 8-incher (lucky number 4) outta the case on May 6, 1997 A.D., and we were like, "Hey, let's snap a picture with our CCD cam (lucky number 4, casseopeia)."
So we did. We used a forty-second exposure on the red and green filters, and then used a sixty-second exposure for the Bad Blue Boy.
And we were like, "hey, what the heck is that?!"
It was M13, the globular cluster. Go figure….