These images were captured on the evening of May 20, 1998 between 11 pm and midnight at Carleton College's Goodsell Observatory by Pat Dwyer '98 and Ellie Morse '98. It was a remarkably clear evening and the images turned out even nicer than we expected.
M13
This globular cluster is located in the constellation Hercules, 23,500 light years away from Earth. It invisible to the naked eye but can be found with a telescope in the spring and summer sky.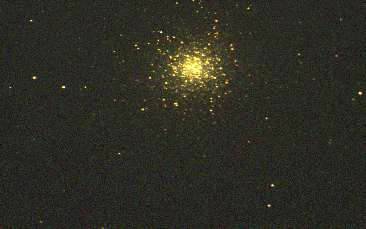 M57
More commonly known as the ring neblua, this planetary nebula can be found in the constellation Lyra. It is much closer at 1960 light years away and also rises in the spring and summer sky.