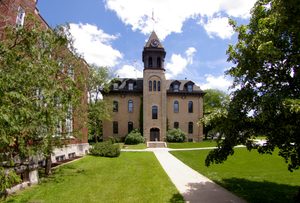 A gift to the endowment is truly a gift that benefits Carleton forever.
Gifts to the Carleton endowment are invested, and their earnings provide a permanent source of income for the College. Funded by your gifts as well as investment growth, the endowment is the financial cornerstone of Carleton's academic excellence.
Each year, money from endowment earnings is used to support the College's annual operating budget—dramatically affecting the amount of financial aid available to students, the quality of our academic programs and facilities, and faculty salaries.
Your endowment gift helps ensure a continuous source of funding for scholarship, research, teaching, and service programs.
Learn more about the Carleton endowment.
Types of Endowment Gifts
1. Unrestricted Gifts
Unrestricted endowment gifts provide annual income that Carleton can use at its discretion for the College's areas of greatest need. An unrestricted gift offers Carleton the greatest flexibility to direct funds to the most pressing financial needs and College priorities of the time.
2. Restricted Gifts
Restricted endowment gifts are donated for a specific purpose, and must be used by the College in accordance with the donor's wishes. These may include gifts for: