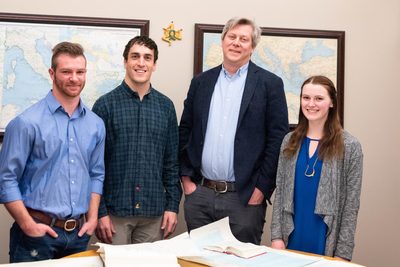 Classics professor Jake Morton cut his teeth working in the field, wandering his beloved Greece searching for physical evidence of an ancient past. "You can run all the analysis you want on a computer," he said, "but nothing compares to seeing it with your own eyes." It's no surprise, then, that after coming to teach at Carleton, he decided to share the benefits of fieldwork with his students firsthand by bringing three of them with him to Greece.
After weeks of research poring over classical texts such as Livy's Books from the Foundation of the City, three students–English major Isabel McFadden '20 (Seattle), classics major Patrick Mullins '20 (Claremore, Oklahoma), and history major Gabe Nass '20 (Pittsburgh)–set off with Morton to work in Greece. Their two-week mission: to map out the fort system of the ancient Macedonian Empire and to discern the Roman Empire's efforts to bypass it during its invasion of Greece. After a drive from Athens into the countryside, they spent long, hot days hiking in the wilderness between the towns of Elassona and Litochoro, in the shadow of Mount Olympus, mapping out these ancient routes and networks. They found and inspected ancient fort sites and determined conclusively that they were Macedonian by studying their design. They also used textual sources to track down multiple Macedonian and Roman camp sites and marching routes, as well as extrapolating how Roman and Macedonian strategies were impacted by geography and these defensive systems.
But it wasn't just ancient history Morton and his students encountered on their travels. They also found themselves interacting closely with the living, breathing world of modern rural Greece. As Morton put it, "Getting to spend a bunch of time immersed in another culture matters. You're in an area where you really can't rely on people speaking English. It was really a tribute to Carleton that [my students] really immersed themselves in the new culture, and the communities we interacted with could sense it."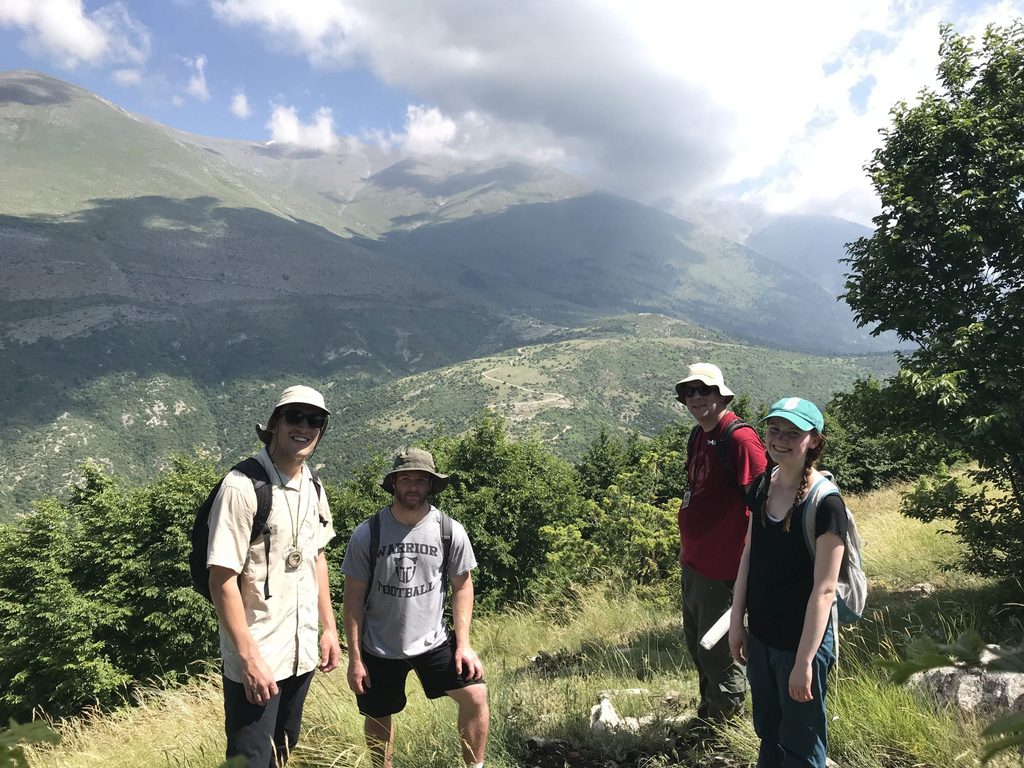 Each student had picked out a subfield of expertise in their research. Isabel focused on the idea of autopsy–not in the post-mortem sense of the word, but in the old Greek sense, namely "the benefits of going to a physical place and seeing it yourself," she said. For Patrick, his focus was the Macedonian timber industry and how the paths it created through the mountain forests impacted the movement of armies. On the ground, they discovered that his work was still relevant today. "We found that all our own movements [through the mountains of rural Greece] were dependent on timber industry roads," he said.
As the group returned to Carleton, they brought a lot back with them: stronger research skills, a renewed enthusiasm for classical studies (one that they plan to spread throughout campus; as Patrick said, "you get the department a lot of interest, just because you have those kinds of opportunities"), and deep gratitude for the opportunity they were given. "It was an opportunity to experience what actual fieldwork is like," Patrick said. "That's not something I would have at a lot of places." Isabel also noted the experience has prompted her to consider a future in classics.
Morton pointed out that fieldwork at many schools tends to be "pay-for-play." At these institutions, opportunities like this one are outside lower-income students' price ranges. A stipend from the dean's office was critical. "It made it so everyone could go on the program, not just people who could afford to pay for everything themselves," he said. "Making sure they have the plane tickets and hotel rooms covered … makes it so I can take these guys. The student research program we have here combined with the dean's office money made it so this could happen and everyone could go. That says a lot about Carleton."