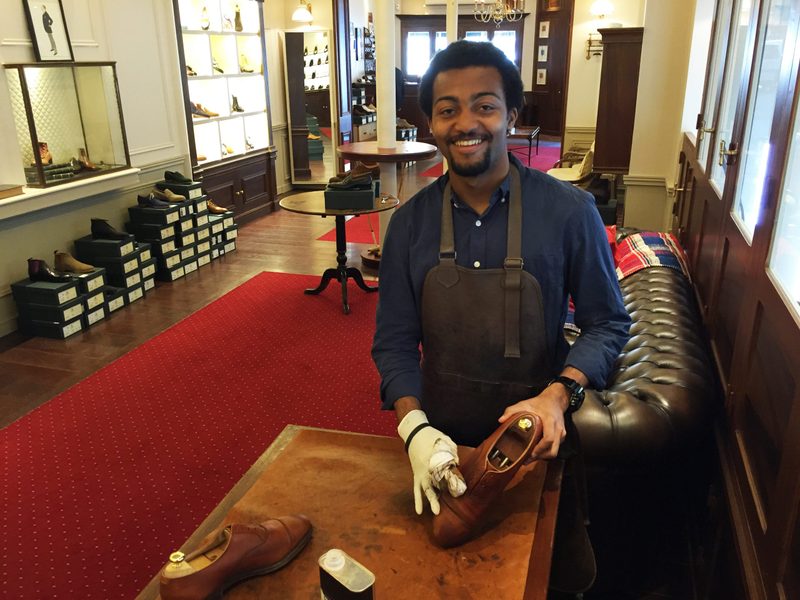 Christopher Griffin '17
Larson International Fellowship
Ever since his first job shining his father's shoes, Chris Griffin '17 has been passionate about footwear.
"You can tell a lot about a person by their shoes," he says. "It's an important part of how people represent themselves."
Griffin says he's best represented by a pair of Norwegian Welt Derbies, an elegant shoe with a silhouette similar to the ones he shined for his father. "They're truly artisanal," he says. "Most people find beauty in the product, but I find beauty in the product and the process. This style is one of the most time-consuming welts in shoemaking; it requires 80 hours of diligent labor."
That tenacity also makes the derbies the perfect symbol for Griffin. Take, for instance, the amount of fancy footwork required to arrange a truly one-of-a-kind internship for himself.
Griffin came to Carleton from his home state of Alabama knowing he wanted to study abroad. He started with French 101, and by the end of his sophomore year, was ready for the Paris Off-Campus Studies class. When he heard Carleton would also be testing a pilot program giving students the chance to extend their stay for another eight weeks while completing an internship, he was ecstatic.
"I knew I had to get the full experience out of this," he says.
The program tried its best to match internship opportunities with students' interests, finding positions in medicine, government, and the arts. But Griffin's passion was much more niche: shoemaking.
So he did his own research. He compiled a list of master French cobblers and waited to hear if any were interested in taking on an apprentice. Meanwhile, he applied and reapplied for funding, eventually being awarded support from the Larson Family Fellowship. That, combined with a scholarship from the French Department covering his student visa, made completing an internship abroad possible.
Just one problem: All the shoemakers Griffin tried told him no.
"I had nailed down the funding but hadn't gotten the job," he says. "It says a lot about the Larson family fellowship's confidence in me that they funded me before I'd even found a position," he says.
He refused to give up. There was one craftsman who hadn't flatly denied him—Dimitri Gomez from Crockett & Jones Paris. Gomez explained that while he couldn't take on a full apprentice, perhaps the boutique above his basement workshop could use an intern. Then Griffin could unofficially learn from him while working for the store.
So, after a nerve-racking interview conducted in French, Griffin had his opportunity. Crockett & Jones Paris hired him as a public relations intern for sales. As a CAMS major, he also helped produce a video for the company's social media channels.
Better yet, he visited Gomez in his basement shop every day.
Griffin was nervous at first. He spoke pretty good French but knew that conversational French was much different than classroom French. And shoemaking jargon isn't exactly covered in most textbooks.
"I made a little dictionary," he says. "There were a lot of people invested in me, and I didn't want to let them down."
But his confidence grew quickly. Selling his first pair of shoes, he says, felt like getting an A+ on a test, and it got easier with every pair he sold. "The amount of energy that I put into learning the language increased. I definitely improved so much."
Beyond improving his French, Griffin also gained craftsman and career skills. He'd received funding from the Larson Family Fellowship to create a documentary on Gomez, who still uses traditional shoemaking methods dating back to the 1800s. With those techniques, Gomez has started crafting a final takeaway for Griffin: a pair of custom-made Norwegian Welt Derbies.
"The extra two months as an intern were a tipping point," Griffin says. "It was one of the happiest experiences of my life. I learned to make the most out of opportunities, and I hope to pay it forward one day."
He also hopes to have his new derbies from Mr. Gomez in time to wear them with pride at graduation.