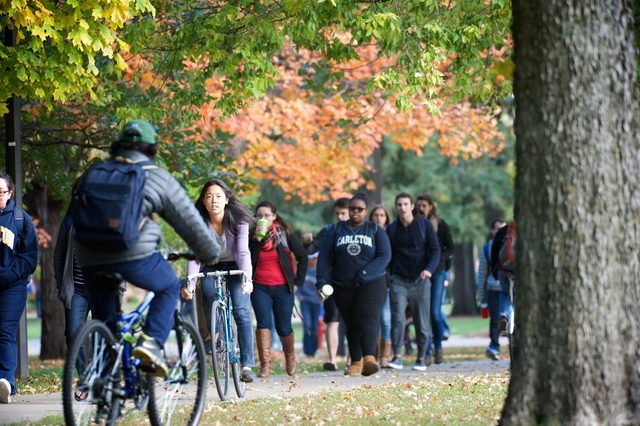 Welcoming one of the largest incoming classes Carleton has ever had will be a jubilant occasion this fall—and it will also present campus with a few challenges and a greater need for flexibility in budgeting.
"We need to be able to provide the same opportunities and experiences for the entire student body," says Carolyn Livingston, vice president of student life and dean of students. "More first-year students means more revenue down the line, but immediately it also means we'll need more Argument and Inquiry Seminars, more advisers, more space in residence halls … it even means Bon Appétit will have to make more meals!"
The important thing for the college, Livingston stresses, is creating a seamless transition to accommodate the needs of a larger class. "Even though it's more of everything, we have to be able to say and show that we're okay with this many students."
To accomplish this, the strongest tool Carleton has is the Alumni Annual Fund's designation for areas of greatest need. When donors direct their gifts toward the area of greatest need, they help the college apply more resources where they can have the most impact immediately.
"The Alumni Annual Fund—in particular the portion of the fund designated to areas of greatest need—offers flexibility to put resources where they are most needed at the moment," says Alumni Annual Fund Board Director Betsy Sylvester '06. "Many students accepted Carleton's offer because they saw the community here. They have an expectation of what their experience is going to be like, and contributing to the Annual Fund's area of greatest need designation is a chance for us as alumni to step up and help fulfill those expectations."
Funds designated for "greatest need" come in handy in exciting-but-challenging times like these, when the high number of incoming students took everyone by surprise, including dean of admissions Paul Thiboutot, who has been at Carleton for three decades. "Each year the admissions team calculates how many students the college hopes to admit, and then sends acceptance letters to a larger number, assuming a certain percentage will choose to enroll elsewhere," he says. This year, however, a great deal more students accepted Carleton's offer than expected.
"This is the largest yield in my time," Thiboutot says. "And these are still the quality students we have always attracted; our average ACT score has even gone up a tick."
Not only is Carleton pulling in more students, it's also attracting more students from farther away. California alone will be represented by 55 members of the class of 2020; Texas will have 29.
So why are so many students choosing Carleton?
"I came to Carleton because I felt so welcome here," says Sacha Greenfield '19, from La Crescenta, California, who hopes to major in physics. "I'm constantly startled by how kind and down-to-earth everybody is, and I love that I can express myself without fear of judgment."
"I actually applied to 10 schools, most of which were research universities," says Alex Mackiel '19, from Roberts, Wisconsin. "I didn't know much about the liberal arts, but after visiting Carleton, I knew this was exactly where I wanted to be. I like how it focuses on the broad development of a person because I'm interested in both biology and English."
"I chose Carleton because I knew it would provide the community and resources to support me, and because it supplies the opportunities I need to prioritize my well-being and personal development," says Jen Chan '19 from Hong Kong.
"Students come here and do great things," Livingston says. "And our reputation is speaking loudly right now."