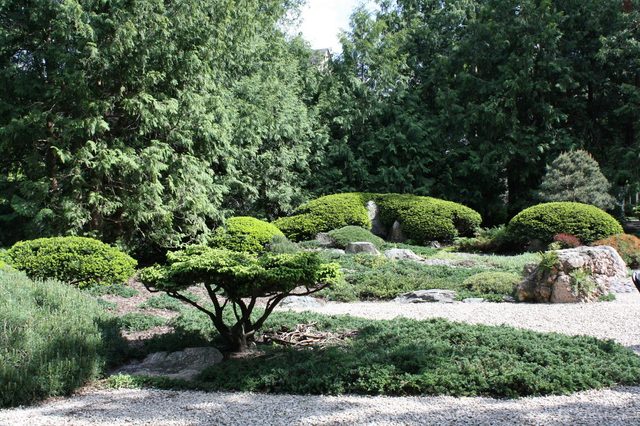 The Bardwell and Charlotte Smith Endowed Fund for Support of the Japanese Garden
Although it is named Jō Ryō En, "The Garden of Quiet Listening," Carleton's Japanese garden is often filled with laughter—especially on Thursdays. That's when the volunteers who care for the trees and plants gather in the garden's tea hut for coffee and treats before beginning their assigned tasks. Ranging in age from retiree to preschooler, the volunteers fondly refer to Jō Ryō En as a place of joy and contentment.
Each week, these dedicated volunteers pull weeds, trim leaves, and transplant trees under the direction of Carleton gardener Mary Bigelow, who has cared for Jō Ryō En for 25 years.
Caring for a Japanese garden begins with basic good health of the trees and plants, Bigelow explains, then branches into aesthetics. Japanese gardens emphasize feelings of harmony by reflecting the natural landscape and utilizing horizontal lines; plants in Japanese style gardens tend to sprawl outward rather than shoot straight skyward.
"It's very nonaggressive," Bigelow says. "And the idea is to keep humans in scale. A person should never feel gargantuan or Lilliputian here."
To sustain this peaceful feeling, the volunteers work meticulously for hours. Trimming is more complicated than it appears. The gardener needs to prune inside the plant, not just along the outer layer of leaves, so sunlight and fresh air can get in and a "crust" doesn't form. Trees are trimmed to look natural, but there is still an intentional art to the process.
"All that tangling back and forth of the branches is a choice a gardener made," explains volunteer Johannah Scheu '07. "This tree will never look like any other tree. We celebrate uniqueness here."
The garden is a vital part of campus, Scheu says, and it's significant that Jō Ryō En is one of the few Japanese gardens open all day, every day, to everyone. Art students, musicians, yoga enthusiasts, football players, and community members all visit the garden.
The garden means a great deal to the volunteers—so much that they've even named a few of the plants. Bigelow says she gets almost teary-eyed when they lose plants to rabbits or weather damage.
While work in the garden beautifies it today, it also reflects devotion to the future. "My goal is for someone in 50 years to say, 'Wow, cool branches,'" Bigelow says. "We want everything here to look funky and old."
Bigelow points out that the trees that a volunteer grandfather and his grandson are transplanting today might be seedlings now, but in 50 years they'll form the core of the garden. Carleton and Jō Ryō En are intertwined, Bigelow says, "and we're lucky the garden has an endowment to make sure it'll be here when those trees mature."