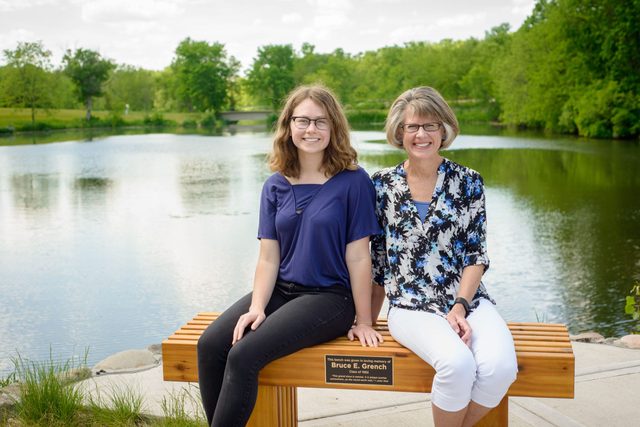 By her count, Eva Grench '19 is the 36th person in her family to attend Carleton—a list that includes cousins, aunts, uncles, grandparents, and even great-grandparents.
Her parents, Dawn Scott Grench '83 and Bruce Grench '82, met in Myers Hall when they were first-year students. Her mother, who grew up in Northfield, attended Northfield Middle School—now the Weitz Center for Creativity, where today Eva has classes. Her grandmother and aunt still live in town, so even though she grew up in St. Louis, Missouri, campus felt warm and familiar from the moment she arrived.
"Having family in town has been such a comfort while I've been at Carleton," Eva says. "At times classes can seem difficult, even though you are learning a lot, and I always feel refreshed after spending time with my relatives."
Eva has also nurtured her own connection to the community beyond campus as a program director for the Center for Civic and Community Engagement. Putting her passion for the environment to work, she volunteers at a local elementary school, teaching kids about gardening, plant science, ecology, and food justice.
"Green Thumbs has definitely shaped my Carleton experience," Eva says. "I love interacting with people in such a different way—especially because they are second and third graders. I rarely think of it as volunteering."
Because Carleton has meant so much to their family, Eva's mother Dawn decided to give back. "I really reaped the benefits from having Carleton as my neighbor when I was growing up," she says. "I went to plays and concerts at Carleton, and I cross country skied in the Arboretum. After I graduated my wedding reception was at Carleton. There was just so much good at Carleton from my past that it seemed like the obvious thing to do."
Music, in particular, had been a highlight of her own time on campus, Dawn says. Though she majored in political science and international relations, she was active as a flautist in recitals and chamber concerts. "Being able to play chamber music was the most gratifying part of my college career," she says. It was a natural fit, then for her to support the music and performance commons addition to the Weitz Center.
And that was just the beginning. Dawn also asked Eva what she thought the family should support, and Eva suggested whichever area the college felt would help its students most. Since Carleton has recently made increasing financial aid for low- and middle-income students a top priority, Dawn also decided to establish an endowed scholarship.
"I'm a firm believer in good education, and it saddens me that money could be a barrier to that," Dawn says. "I've heard that middle-income students often end up getting squeezed out of financial assistance opportunities, so I wanted to help fill that hole."
With Eva still on campus, majoring in computer science, the family connection to Carleton remains strong; Dawn has participated in Reunion planning and will soon return to campus to see a memorial bench dedicated to her late husband, who died in 2014. And with two younger siblings at home, Eva might not be the last of the family to continue that bond.
"Carleton is really woven into the fabric of our life," Dawn says.