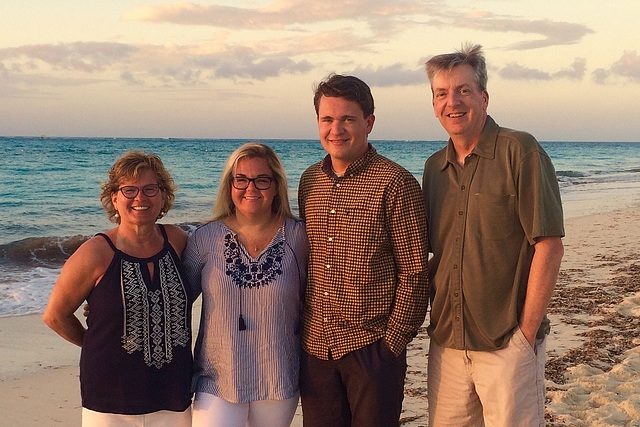 Although Jeff Parker '82 and Holly Lynn Parker '82 lived next to each other on fourth Watson as first-year students, they didn't start dating until well after graduation. And while they both loved their Carleton experiences, they weren't actively involved alumni—until their daughter Allison Parker '14 graduated.
"She gave us a reason to get back on campus," Jeff says. Allison had thrived at Carleton, having found a great circle of friends and the confidence to become a leader, and while the Parkers had been long-time donors to the Alumni Annual Fund, seeing Allison's success made them eager to do more. Allison encouraged small connections such as watching the college's "Sense and Nonsense" panel discussion on the presidential election and Garrison Keillor's convocation address.
Soon their relationship with Carleton felt so rekindled that Jeff and Holly decided act on an idea they had mulled over to establish a scholarship supporting students who have the intellectual potential—but not the financial means—to come to Carleton. "The breadth of a Carleton education and its emphasis on the ability to think broadly and creatively is so important," Holly says. "The world needs more comprehensive, creative thinkers."
This is just one way that Holly and Jeff have expressed their passion for education. Holly left a corporate career after a decade to earn a master's degree in social work and became a volunteer in her local school district. She was active on just about every PTO committee, she says, served on the school board for eight years, and later became president of the Foundation for Eden Prairie Schools. Jeff also left the corporate world after 20 years to teach high school math, and the two have been actively involved with the nonprofit Social Venture Partners to help underserved teens.
"Education and access to education is important to us," Jeff says. "Helping students get a leg up made us think about setting up a fund to help students on the margins."
Again, Allison provided the spark. "She said to us, 'if you're thinking about establishing a scholarship, now might be a good time,'" Holly says. "She knew about the 1866 Match, and she knows we love Carleton."
The 1866 Scholarship Match, a challenge fund established by the Weitz family, doubles any commitment between $100,000 and $2.5 million to create an endowed scholarship or add to an existing scholarship fund. Allison, a class agent for the Alumni Annual Fund, had heard about the Match at the Carleton Alumni Volunteer Event and thought her parents would be interested.
"I feel very strongly, and I know my parents do too, that elite colleges like Carleton should be available to all students, not just those who can afford it," Allison says. "I know the college is focused on increasing diversity—in all aspects of the word—on campus, and I thought it would be really special if my family could play a part in that." Once she learned her parents had created the fund, she eagerly asked how she could contribute, too.
Giving to the Parker Family Scholarship fund was the next step in engagement for Allison, who as a student volunteered as a tour guide and admissions fellow, served on the Students and Alumni Programming Leadership Board, and helped mobilize the Class of '14 to break the senior class gift participation record. After graduating, she's reached out to her high school counselors to encourage them to tell their students about QuestBridge, a nationwide program that connects talented, under-served students with high-quality education opportunities at colleges like Carleton. And she's already planning for her upcoming fifth Reunion.
"We've all been fortunate through hard work and serendipity," Jeff says. "With the Match, a lot of things aligned to make this the right way to give back."