On Thursday, October 19, students, teachers, and alumni gathered at Carleton College to discuss the one thing they all had in common: German. Three Carleton alumni who had studied German in college came back to talk about their current careers, possible careers for German students, and how their own studies of German culture and language had prepared them for the workforce. This Alumni Panel was a part of "German Campus Weeks", a series of events celebrating the German language and culture in the US. Previous events included a Business Summit with representatives of Minnesota companies and a field trip to Siemens in Minnetonka, MN. German Campus Weeks are sponsored by organizations that include the German Embassy, the Carleton German Department and the St. Olaf German Department. St. Olaf students and faculty also made their way over to Carleton to take part in some of the events and connect with fellow German speakers.
Juliane Schicker, Assistant Professor of German at Carleton, put in a lot of time organizing the Alumni Panel and leading other events for the German Campus Weeks. This particular event was open to the public and everyone present was eager to hear from the three alumni. After a short introduction from Julia Gross '18, a current Carleton German major, each alumnus spoke about the impact German had on their personal career. The first speaker of the event was Michael Sampson, a German major from the Carleton Class of 1994.
Michael is currently a partner at Maslon Law Firm in Minneapolis, and has been a practicing lawyer for twenty years. He spoke to us about the impact his study abroad year in Munich, Germany had on him. His year abroad inspired his love for German and he even met his future wife while in Germany! Now that he is a lawyer, Michael admits that in his career he more often uses the skills he gained studying German than the actual language. However, he encourages students considering law or other related fields to think about a German major. "Studying German literature was the best preparation I could have had for law school", said Michael.
The next alumnus we heard from was Seth Goodspeed, a graduate from the Class of 2007 who is currently working in nonprofit fundraising as the Director of Alumni and Annual Giving at Minneapolis College of Art and Design. Seth also attributed his eventual German major with his study abroad in Munich. "My two closest friends came out of my study abroad experience", said Seth, stating also that his entire study abroad experience was "really fantastic". He goes on to explain that he knew any major he earned from Carleton College would help him be successful, and he chose German because he ultimately enjoyed it. His major particularly taught him to communicate in multiple ways with a variety of people, skills he says he uses constantly in his career.
The third speaker of the group was also the most recent graduate. Brittany "B" Salazar is Carleton graduate of the Class of 2016, who earned a Certificate of Advanced Studies in German (which is now called a German minor) along with a Biology major. She is now involved in graduate research at the Mayo Clinic in Rochester, MN. Brittany said she was first influenced by German culture when her family moved to Munich for two years while she was in middle school. Once in college she took German language courses and eventually studied abroad her sophomore year. As a Biology major, she decided to attend the University of Tϋbingen and took science classes toward her major. She spoke about how her German language skills have opened up great travel opportunities for her, and she continues to appreciate German even though she doesn't use the language in her workplace.
After all three alumni had spoken, there was time for some more questions about how the study of German has affected their lives and advice they had for current German students. A specific piece of advice echoed by all three alumni was summed up by Brittany, "If you can study abroad, do it". Overall the evening was filled with great conversation and showed current students the value of German studies and the variety of career choices available to them because of it.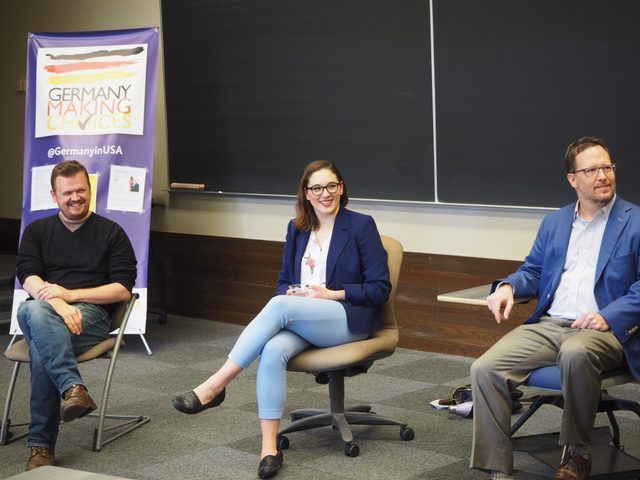 Anna Grace Weisenburger, St. Olaf
A link to the video recording of the talk can be found here.