This year's German Campus Weeks ended on a high note with a visit from the German Consul General Herbert Quelle, who visited Carleton on November 9th to discuss German-American relations. As both a respected career diplomat and a musician who has published books about German influences on American blues music, Quelle was also an engaging speaker. Addressing an audience of approximately 40 students, faculty, and community members, he spoke about issues ranging from climate change to the recent German elections.
Quelle reaffirmed Germany's intention to maintain a close relationship with America, while also acknowledging that President Trump's "America First" ideology has created some challenges. According to Quelle, this ideology is economically "dangerous" to Americans as well as their trading partners, because many products rely on parts sourced only from foreign countries (such as Quelle's instrument of choice, the harmonica). In regard to climate change, Germany is continuing their commitment to environmental sustainability by reducing their CO2 emissions by 40% from 1990 levels. They are also hosting the COP23 in Bonn this November, an annual conference to discuss climate change. After a twenty-minute talk about some of these issues, Quelle responded to questions about the refugee crisis, commemoration of the fall of the Berlin Wall, and the rise of the alt-right party Alternative für Deutschland.
This interactive event was made possible by funding through the German Embassy, which sponsors various German-themed events at universities around the country in a program called "German Campus Weeks." The German program at Carleton submitted a proposal to host these events last year, and was one of dozens of colleges and universities across the country to receive funding. Earlier this term, Carleton hosted a business summit with representatives from various German-connected companies in Minnesota, an alumni panel showing how former German majors or minors have used the language in their careers, and a field trip to Siemens in Minnetonka.
According to Juliane Schicker, Assistant Professor of German at Carleton, this year's German Campus Weeks were successful. "Our students connected with professionals from [various] fields. One message that always resonated during the talks, discussions, and the field trip was the need for future employees who have communication skills and are well-versed in intercultural relations – skills that the liberal arts education at Carleton offers when students mix their courses in the sciences with those in the humanities… if an applicant knows one or more languages besides English, they are setting themselves apart from the applicant pool and will have a greater chance to receive a job offer." Although many foreign languages may look impressive on a resume, German has become increasingly popular and useful in recent years because of its growing political and economic role in the European Union, not to mention its strength in scientific research. Germany "aspires to exemplify European Enlightenment ideals of tolerance and understanding," while also holding the status of the "second most important language of the sciences." Prof. Schicker encourages any students interested in German language, culture, or politics to become involved with the program through taking classes or by attending one of the various events they sponsor throughout the year.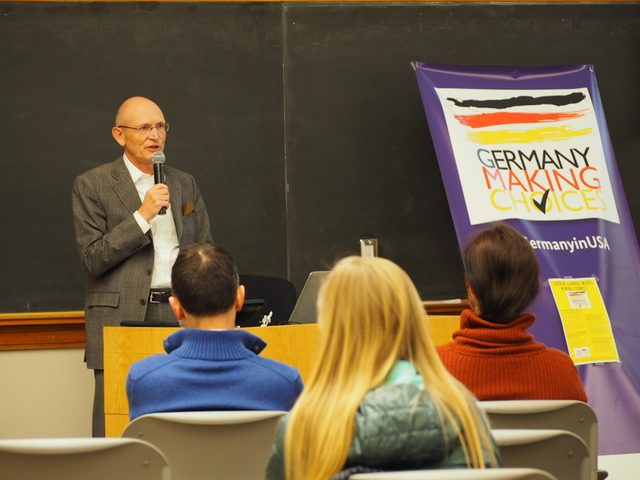 Cara Meyer '21
A link to the video recording of the talk can be found here.