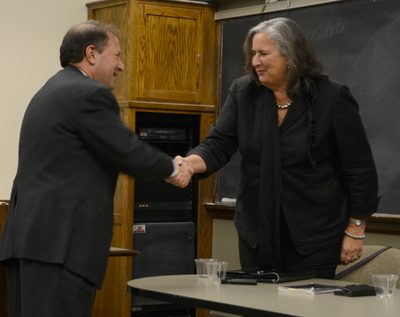 One of Carleton College's German program supporters, Christa Tiefenbacher-Hudson, was awarded The Order of Merit of the Federal Republic of Germany! Christa Tiefenbacher-Hudson was on campus multiple times to talk to our students about job opportunities in Minnesota with German and to discuss developments in the German-American world. Here is a picture of her shaking hands with Carleton's president Steven Poskanzer during one of the 2017 Campus Weeks event.
Congratulations, Christa Tiefenbacher-Hudson!
The German American Chamber of Commerce Midwest, MN Chapter reports that on September 25, 2018, Christa Tiefenbacher-Hudson, co-founder and managing director of TripleInk, was awarded the Order of Merit of the Federal Republic of Germany. This is the highest tribute Germany can pay to individuals for services to the nation and the only honor that may be awarded in all fields of endeavor.
Christa is being recognized for her contributions to enhancing Germany's standing abroad and its relations with the United States in economic, cultural, political and social matters. As a co-founder, board member and one-time president of the Minnesota Chapter of the German-American Chamber of Commerce, she has promoted business and economic relations between Minnesota and Germany since 1992.
Christa served for over 10 years on the advisory board of the Center for German and European Studies at the University of Minnesota, during a time of intensive academic, cultural, and governmental exchanges between Minnesota and Germany in areas such as art and language, healthcare policy, renewable energy, and dual education.
From 2010 to 2016 she held the post of Honorary Consul of Germany in Minnesota, the Dakotas and Western Wisconsin, providing consular services to German and American citizens and nurturing relationships across the upper Midwest that foster mutual cultural appreciation, business development, and a greater understanding of social and political similarities and differences.
Since 2016 she has served as the director of the Minneapolis Eric M. Warburg Chapter of the American Council on Germany."