On January 26, six Carleton alumni gathered on Zoom to chat with our students about their journeys through Carleton and beyond. We asked them a few questions that could help current students for their time on campus. 
Tamarae Hildebrandt '13 is in her 6th year of PhD studies in Linguistics at the University of Michigan and double-majored in Linguistics and German at Carleton. She is currently writing her dissertation that focuses on examining implicit and explicit measures of sentence acceptability in EEG and online Self-Paced Reading experiments. 
Briannon Carlsen '17 is teaching English at an elementary school and a language school in Germany and just landed a new gig in the recruitment team at the Frankfurt School of Finance. She double-majored in Political Science and German at Carleton. 
John Scott '18 is working toward his PhD in the Low Temperature Physics Laboratory at Northwestern University where he studies the properties of superfluid helium-3 at near-absolute zero temperatures, and in particular the effects of disorder on superfluid texture and phase stability using nuclear magnetic resonance. John majored in Physics at Carleton and minored in German.
Morgan Ross '19 is pursuing a PhD in Communication at The Ohio State University where he researches the connections between phone usage, psychology, and movement. He majored in Cognitive Science and minored in German at Carleton.
Erica Helgerud '20 is the Weitz Fellow at Opera Omaha in Omaha, Nebraska, where she handles marketing, social media, community engagement, research, and various administrative responsibilities. She majored in English and minored in German at Carleton.
Luke Westawker '20 is a remote Congress-Bundestag Youth Exchange (CBYX) scholar and also works on theoretical chemistry research for the National Renewable Energy Lab (NREL) to prepare for his PhD studies in Chemistry. He majored in Chemistry and German at Carleton.
When asked for the most helpful skill our alumni learned at Carleton or an encounter they had during their undergraduate studies that helped them develop their personal and academic persona, the Off-Campus Studies Program in Berlin was mentioned multiple times! Being immersed in the city and its arts, and being encouraged to develop one's own independence was a significant step toward our alumni's current careers. For John, Berlin and the German program in general provided him with the main source of the liberal arts education that he hoped to get out of Carleton, besides pursuing his STEM field with a focus of going to grad school. Erica was able to involve herself more in the theater world in Berlin, an environment that she now works in at Opera Omaha. For Briannon, the Berlin program was her first time outside the U.S. and allowed her to jump-start her major in German.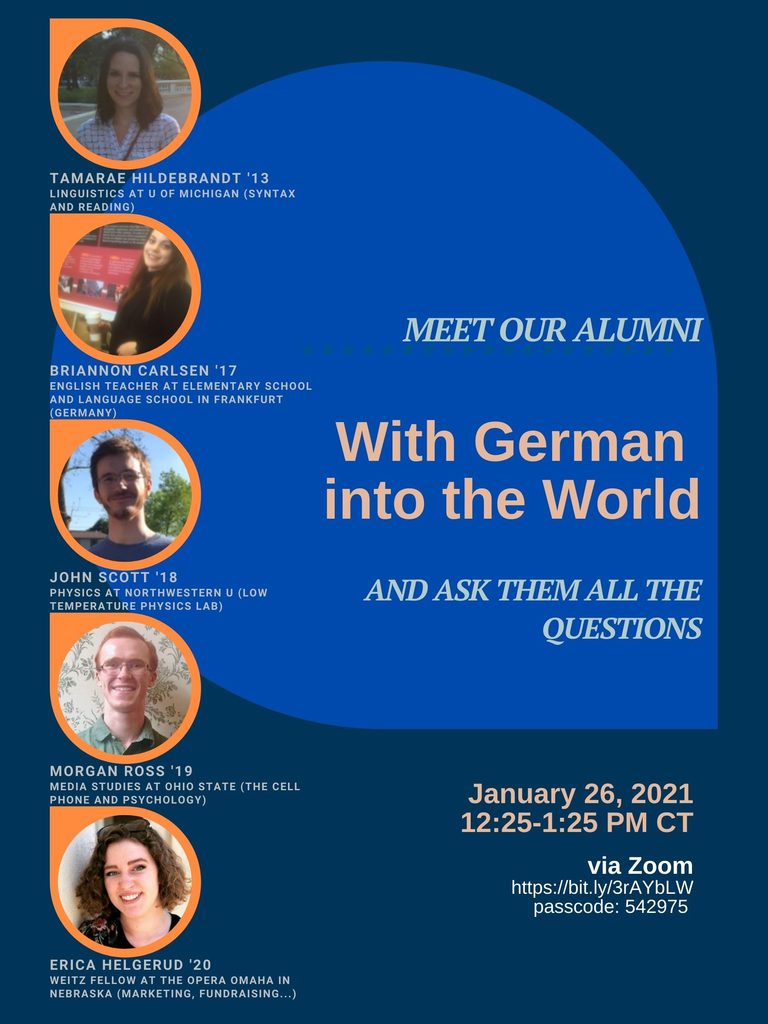 In addition to their study abroad experience, our alumni also valued how on-campus courses at Carleton helped them "read" their surroundings through various lenses. Briannon particularly enjoyed the theory that was taught and applied in LCST 245 "The Critical Toolbox," a course jointly offered by the German program and French and Francophone Studies. John mentioned GERM 216 "German Short Prose" as one of his favorite courses.
Our alumni felt prepared for grad school through their time at Carleton. Morgan was already comfortable with the research process, writing long papers, and working under tight deadlines, since Carleton's 10-week term, the rigorous classes and assignments resemble his current work environment. Working on some assignments at Carleton in a language that was their second or third (such as German) was often tough for our majors and minors, but Luke pointed out that it allowed him to write in a clear, precise, and professional manner.
Our alumni also had tips for our current students so that they can use their time at Carleton wisely. All our alumni stressed the importance of taking care of one's mental and physical health, and suggested getting into a routine of taking breaks and allowing oneself to recharge, so that the work that needs to be done ends up being of higher quality. Tamarae hopes that students take advantage of office hours, not only to ask about class work, but also to form relationships with people one can learn from.
We thank our alumni for spending time with our students and telling us about their journeys beyond Carleton. All of them offered to talk with any interested student who has specific questions for them.