---
Meet our Language Associate (LA) for 2021–22, Loui Schwarz!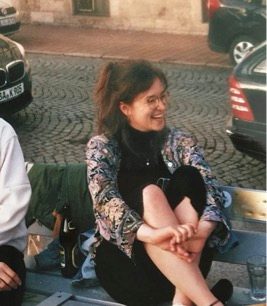 Hi everybody,
I'm Loui the German Language Associate for the upcoming academic year and I'm so excited to be here at Carleton!
Who am I?
In Germany, I live and study in Bamberg (arguably the most beautiful city in Germany). I'm studying to become a teacher of psychology, social work and English for vocational schools and I'm also majoring in English and American Studies with minors in history and sociology.
I love music, coffee, feminism, books and vegan food and I would love to chat about your favorite topics, cook delicious food, play German card games and listen to German music (if you know what to listen to it's actually not bad!). I'm looking forward to meeting you in class, at the German lunch table, at one of our events or during my office hours.
What are my responsibilities?
I hope I can give you some help improving your language skills. To do so, I'm organizing German dinners, movie nights, or little field trips. This is also a good opportunity to get to know German culture. If you just want to talk with me or other fans of the German language, come to our lunch table (every Tuesday from 12-1pm outside on the Bald Spot)! Otherwise you can join my office hours and tutoring sessions where I can help you with some difficult tasks and speaking. Don't hesitate to come and feel free to contact me whenever you need help!
Looking forward to welcoming many new faces in our courses!
Bis bald 🙂
See you on campus or in German class!
---
Loui's Office Hours Winter 2022:
Sundays 3-6pm and Wednesdays 7-9pm in the Language Center (LDC 220)