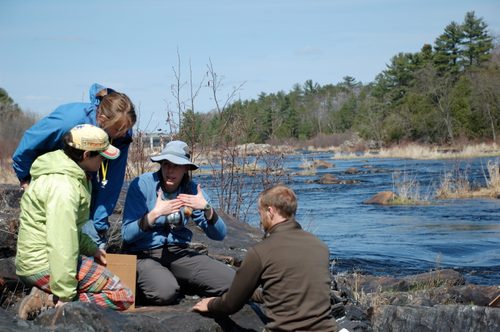 Students who discover in themselves a sense of excitement about the environment, mountains, climate change, volcanoes, fossils, rivers and earthquakes, will find a good home in the Carleton Geology Department. Founded by Dr. Laurence M. Gould, former President of the College and one of the first geologists to explore Antarctica, the geology department retains a spirit of exploration and adventure.
Fieldwork in the out of doors is central to our curriculum. The interests and goals of geology students are diverse; more than three-fourths go to graduate school as preparation for careers in academia, environmental sciences, science journalism, industry, and the public sector at the local through federal levels. A degree in Geology has also proved to be a good foundation for graduate study and work in conservation, architecture, engineering, resource economics, environmental education, and resource management. Typical of Carleton, our graduates can also be found in almost any profession.
The geology curriculum is flexible, rigorous, and rooted in the traditions of a liberal arts education. Junior and senior majors in other natural sciences are welcome to enroll in geology courses numbered 200 and above without the introductory geology prerequisite with permission of the instructor.
If you are a new student you will also find information on our "Guide for New Students" page.