History of the Geology Department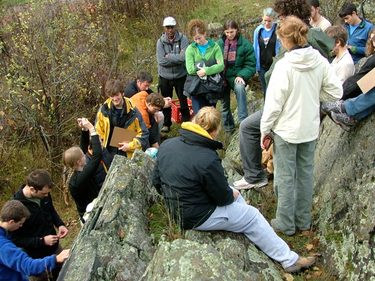 The Geology Department was founded in 1932 by Dr. George Gibson and Dr. Laurence M. Gould. Dr. Gould was noted at the time as the chief scientist of the first Byrd Expedition to Antarctica and was the first scientist to explore the Antarctic interior.
The geology department retains the spirit of exploration and adventure. The department makes a particular effort to be welcoming and affirming to people of all colors, ethnicities, affectional orientations and gender identities.
The interests and goals of geology students are diverse; more than three-fourths go to graduate school as preparation for careers in academia, environmental sciences, science journalism, industry and the public sector at the local through federal levels. A degree in Geology has also proved to be a good foundation for graduate study and work in conservation, architecture, engineering, resource economics, environmental education and resource management. Typical of Carleton, our graduates can also be found in almost any profession.
About Our Students and Graduates
In the past five years we have graduated about 20 geology majors per year.
1100 people have earned geology degrees at Carleton since 1934.
In the past twenty five years half of our geology majors were women.
More than half of the geology graduates have made a career in the earth sciences. In recent years the percentage has increased; most have gone into geotechnical consulting, industry, higher education, and state and federal agencies.
At least 173 (26%) of our graduates in the classes of 1934-94 earned PhDs.
Between 1986 and 1995, more people earning PhD degrees in the earth sciences graduated from Carleton (50) than any other four-year college.
As of 2000, the universities granting the most PhDs to our graduates include University of Washington, UC-Santa Cruz, Penn State, Stanford, CalTech, University of Colorado-Boulder Yale, Minnesota, Wisconsin-Madison, UC-Berkeley, and Princeton.
The following people have been members of the Geology Department for six years or more:
George R. Gibson, Professor, 1931-1938
Laurence M. Gould, Professor, 1932-1945; President of the College, 1945-1962
Duncan Stewart VII, Professor, 1933-1968
Leonard S. Wilson, Professor, 1936-1951
Eiler L. Henrickson, Professor, 1945-1987
C. Edward Buchwald, Professor, 1967-2002
Shelby J. Boardman, Professor, 1971-2007; Dean of the College, 2002-2005
Betty A. Bray, Secretary, 1971-2004
Timothy D. Vick, Technical Director, 1975-2011
Mary E. Savina, Professor, 1978-present
David M. Bice, Professor, 1987-2004
Clement F. Shearer, Professor and college Dean of Budget and Planning, 1990-1998
Bereket Haileab, Professor, 1993-present
Clinton Cowan, Professor, 1997-present
Cameron Davidson, Professor, 2002-present
Sarah Titus, Associate Professor, 2006-present
Further Reading
We have published a number of articles over the years about the Geology department's philosophy and accomplishments. Here are a few of them: