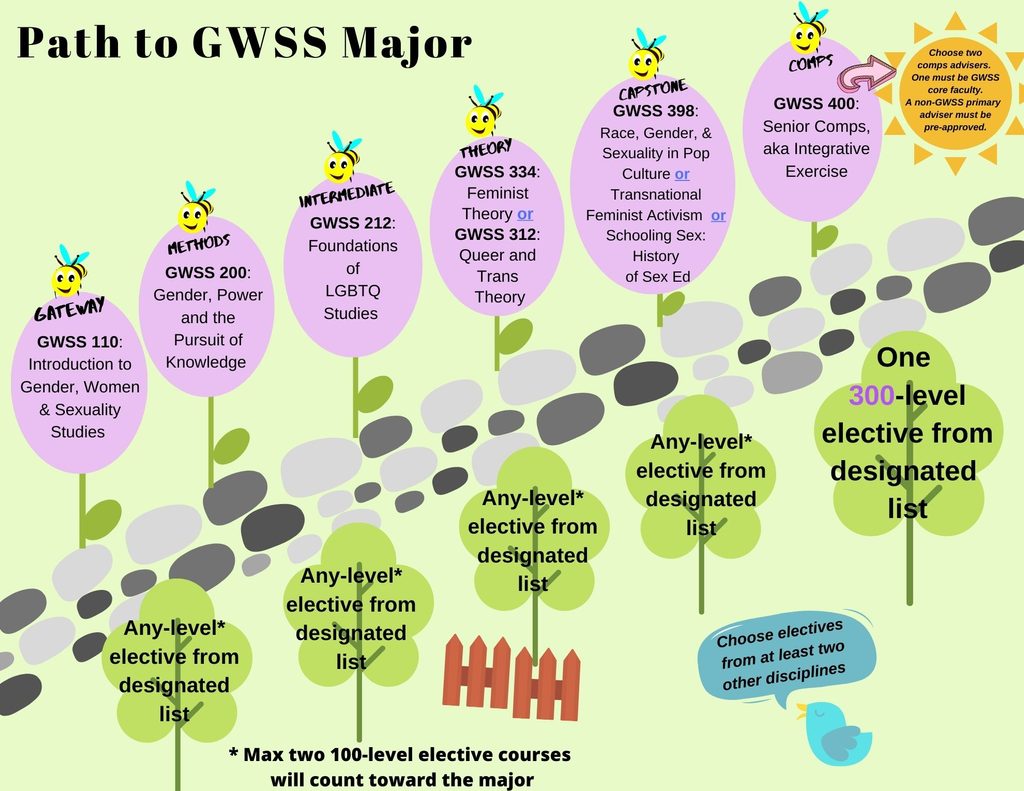 Requirements for the Gender, Women's & Sexuality Studies Major
The GWSS major is a total of 66 credits. It requires:

One gateway course




GWSS 110

Introduction to Gender, Women's & Sexuality Studies

One methodology course




GWSS 200

Gender, Sexuality & the Pursuit of Knowledge

One intermediate course




One theory seminar




One Capstone Seminar

Comprehensive Exercise, GWSS 400

In addition to the five required courses and comps listed above (36 credits), students must complete an additional five electives (30 credits) from the

GWSS Elective/Additional Courses List below. These 30 credits must be spread across at least two disciplines and include:

One 300-level elective and

Four any-level* electives (*Max two 100-level elective courses can count toward the major)
Please note: a variety of courses are taught by visitors or offered only occasionally. These courses may still be considered. Contact the director for consideration of other courses to satisfy this requirement.
Students will plan courses in consultation with the Program Director or a designated faculty adviser when they declare their major, and review their plan each term. The major they design should provide both breadth of exposure to Gender, Women's & Sexuality Studies across fields and depth of study in one discipline (normally at least two courses in one area or from one department).
OCS Programs: You may count up to two 6 credit courses taken on either Carleton or non-Carleton OCS programs toward the requirements of the GWSS major or minor. OCS program courses cannot be substituted for core GWSS courses on campus and will only count towards GWSS electives. Two courses from Carleton's Women's & Gender Studies in Europe program can count as two GWSS elective courses. Students will need to get all OCS program courses approved by the director of GWSS.
GWSS Elective/Additional Courses List