Feb
3
Intersectionali-tea with the GWSS Program
Fri, February 3, 2023 • 10:50am - 11:50am (1h) • Sayles Hill Lounge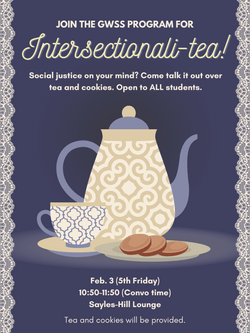 Hello beautiful people!
You are invited to come drink tea, eat cookies, and talk about the world together this Friday during convo time (10:50-11:50am) in Sayles Hill lounge. All students are welcome! Bring your favorite mug and stop by to chat about your ideas and perspectives on social justice. Tea and cookies will be provided.
Please let us know if you have any questions! We can't wait to see you!
With love,
The GWSS SDAs,
Lillian, Binny, and Abby