Mar
2
(In)Visible Lovers: A Look Into Lesbian Representation in Horror Films
Thu, March 2, 2023 • 5:00pm - 6:00pm (1h) • Leighton 236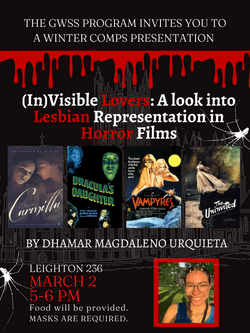 GWSS senior Dhamar Magdaleno Urquieta will be presenting their comps project "(In)Visible Lovers: A Look Into Lesbian Representation in Horror Films" on Thursday, March 2nd, from 5-6pm in Leighton 236.
Carleton students, staff, faculty, and Northfield community members are invited to attend. We hope to see you there!
Food and drinks will be provided. Masks are required.