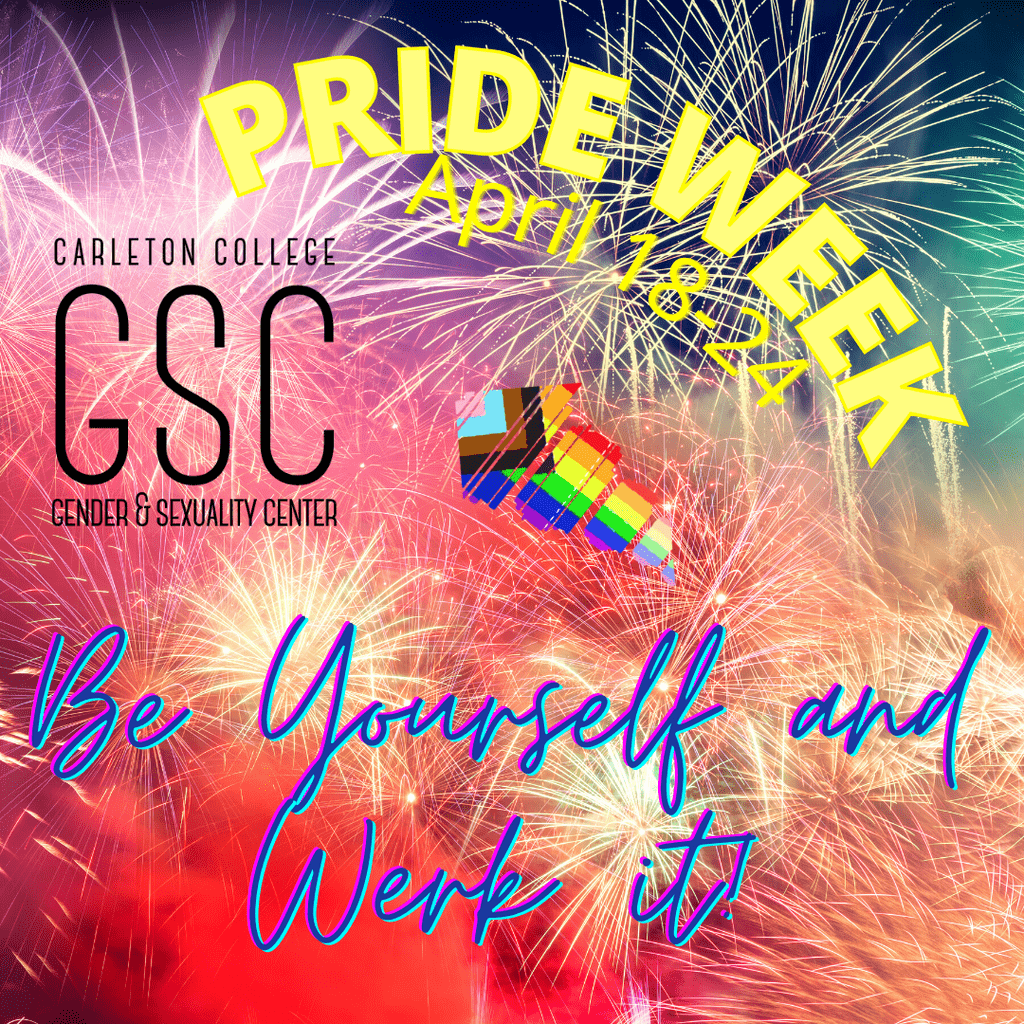 GSC Pride Week 2022 — April 18 through April 23
Join the Gender & Sexuality Center in celebrating its second PRIDE Week, April 18-23, 2022. Typically recognized in June, PRIDE is a time that recognizes the vibrancy and beauty of LGBTQIA+ communities while bringing awareness to topics and issues affecting queer and trans people. The legendary Stonewall Riots of 1969 prompted queer and trans communities to rise up together in defiance of homophobic laws and brutality while demanding recognition of their basic human rights. On June 28, 1970 the first Gay Pride March was held in New York City celebrating the LGBTQIA+ communities and we are proud to continue the tradition here at Carleton.
Monday, April 18 – QCW Pride Week Kickoff – subscribe to the QCW for all things GSC!
Monday, April 18 @ Noon – Pride SWAG Giveaway (outside of Sayles)
Join the Gender & Sexuality Center outside Sayles for a PRIDE SWAG GIVEAWAY. Help us celebrate PRIDE Week 2022 and grab some GSC swag! We will be outside Sayles from 12pm-1pm with everything you need to get your PRIDE Week started… pronoun pins, stickers, flags, GSC t-shirts and FOOD – all while supplies last. So stop by and get your PRIDE on! (Rain Location: Inside Sayles Great Space)
Tuesday, April 19 @ Noon – Awareness campaign regarding current LGBTQIA+ issues & legislation (Sayles Great Space)
Tuesday, April 19 – Career Center mixer – 5-6pm (Johnson House 108)
Learn more about legislation affecting the LGBTQIA+ community and how you can make a difference. Join the Career Center staff to discuss your future after Carleton. Develop your networking and communication skills, discover how best to highlight yourself, your achievements and discuss how you may choose to present yourself to potential employers all in a welcoming environment. Food and mocktails provided!
Wednesday, April 20 @ 5:30 – Ins and Outs of Sexuality & Gender (Grand Hall)
GSC/ISL collaboration discussing the intersectionality of sexuality and gender in a cultural context.
Thursday, April 21 @ 7:00PM – GSC Movie Night – Watch for details
Saturday, April 23 Student Drag Show! @ 8:00PM – The Cave
Come out and support your friends and fellow students as they strut their stuff on the runway.