May
26
Scott Carpenter's Retirement Celebration
Fri, May 26, 2023 • 4:30pm - 6:00pm (1h 30m) • Alumni Guest House.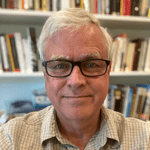 Come join us to celebrate Scott as he eases into retirement! Reception starting at 4:30pm with comments starting at 5:00pm on Friday, May 26th in Alumni Guest House.
Although Scott Carpenter doesn't officially retire this year, his last courses on campus will take place during Spring Term - in particular his Creative Travel Writing course and his famous five-week course on Madame Bovary. In his idle hours, he's working on the sequel to his award-winning book, French Like Moi, as well as on other writing projects.