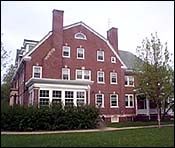 Every year, the department hires a French native speaker who organizes a variety of activities in Parish House, a block and a half from campus.
Maëva Bekkar is the 2021-22 French Language Associate.  In conjunction with the Conseil des étudiants (Student Council), she promotes interest in French and Francophone cultures at Carleton among students in the classroom and beyond.  
2021-22: Language Associate's Weekly Office Hours
Maëva holds weekly office hours in the Library (French Study Center)
Sundays and Tuesdays (8-10pm), Thursdays (8-9 pm)
Questions? Suggestions? Please contact Maëva at mbekkar@carleton.edu. She would also love to hear from you if you'd like to volunteer to help plan French and Francophone events. The Conseil des étudiants will very much appreciate your contributions!