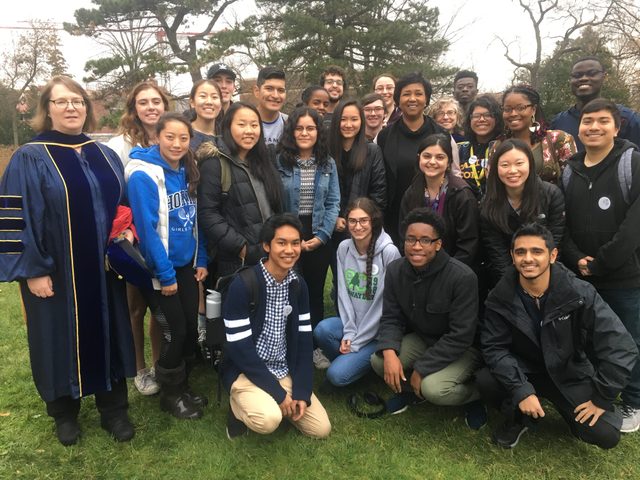 Mae Jemison's Visit
For a special event celebrating science at Carleton and the construction of the new science building, the college invited astronaut Dr. Mae Jemison to Carleton to give a special convocation talk. Her talk was titled "Exploring the Frontiers of Science and Human Potential" which discussed the importance of science education, and the increased participation of women and minorities in science and technology. As her talk was closely related to the core values of the FOCUS program, we wanted to meet her and thank her for her work. And few of us in FOCUS got just the chance.
The Path of Mae Jemison, by Aishee M.
In 1992, Jemison exceeded the sound barrier in the space shuttle Endeavour. She was the first women of color who traveled into space and NASA's first Science Mission Specialist performing experiments on material science, life science and human adaptation to weightlessness.
She was born in October 17, 1956, in Decatur, Alabama; however, she always considered Chicago to be her hometown. According to her NASA profile, her recreational interests included traveling, graphic arts, photography, sewing, skiing, collecting African Art, languages (Russian, Swahili, Japanese), weight training, dancing (she has a strong dance background), and reading.
After graduating from high school, she went on to receive a BS in chemical engineering at Stanford followed by a doctorate degree in medicine from Cornell University. After graduating, she worked as a general practitioner and went to West Africa as a Peace Corps officer. Her experience in both engineering and in medical research in West African made her an asset and special candidate for NASA.
Following Sally Ride — the first woman in space — and her historically significant mission, Dr. Jemison saw an opportunity to apply for the NASA space program. She was selected for the astronaut program in 1987, and served as the science mission specialist on the 8 day mission to space on the STS-47 Spacelab-J (September 12-20, 1992), which was a cooperative mission between Japan and the US. Dr. Jemison was the co-investigator on bone cell research on the mission. She logged 190 hours, 30 minutes, 23 seconds in space. In 1993, she left NASA and went on to do other things.
She is founder of the Jemison Group, a technology consulting firm that integrates socio-cultural issues into engineering and science. The Jemison group also seeks to encourage a love of science and technology in young students. Dr. Jemison is currently working on  "100 Year Starship" to assure human interstellar space travel to another star within the next century. In fact, interstellar travel and understanding held a great deal of importance in her talk. On top of this, she has developed an application that has inspired people to look up at the sky, describe how they feel, and connect to other parts of the world, truly proving how we are all one.
Dr. Jemison has been inducted into the National Women's Hall of Fame and International Space Hall of Fame, and continues to advocate for issues of medicine, social responsibility, technology, and science education.