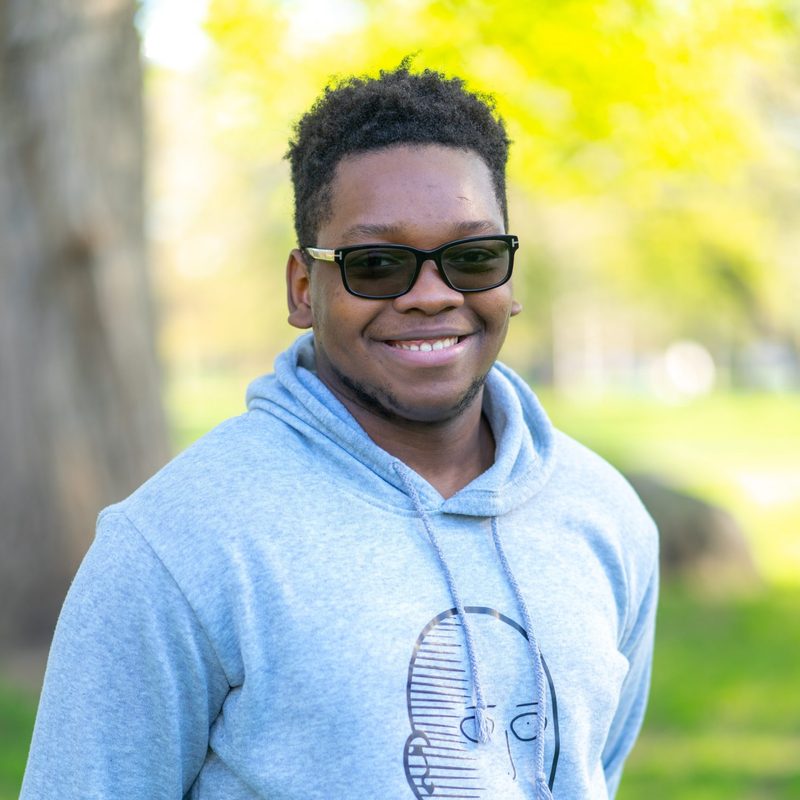 Hometown: I was born in Georgetown, Guyana and I currently live in Brooklyn, NY
Major: Computer Science
Minor: I am thinking of minoring in Latin or Classics. Just because they are also really interesting and I don't know if I'll have the opportunity to study them elsewhere.
Organizations & Activities: I am a part of BSA [Black Student Association], and ACA [African Caribbean Association], and I am on the men's club rugby team. I am also a Student Career Assistant.
What's your favorite place at Carleton?
My favorite place is probably the library. There is a really comfortable couch in the corner on 3rd libe — I always go there to study and end up sleeping.
Also the Weitz Center. I also play bass so I go to the practice rooms a lot. The practice rooms are really quiet and sound proof. And that's really good to center myself and focus.
In your own words, what does it mean to be the first generation in your family to go to college?
I have three younger siblings. Being the first in my family to attend college, I am motivated by internal pressures to pave the way for my siblings. At times, the weight of that pressure feels like I cannot afford to slip up because I worry that my siblings would follow in my footsteps. More often than not, however, being the first one in my family to attend college has been personally empowering, because it has revealed that I can achieve the goals that I set out for myself. For example, once I decided to apply to college, I took it upon myself since my family was unfamiliar with the college application process. I demonstrated initiative by obtaining fee waivers, completing the required tax documentation, etc.
Ultimately, being the first in my family to attend college means that all of my parents' hard work is paying off. In other words, when I succeed, my family succeeds. To be granted these opportunities available at Carleton is a huge win for all of us. I approach each day doing the best that I can, paving the way for my siblings.
What would you say your strengths are as a student, and how does being a first-generation college student inform those strengths?
As a first-generation student from Brooklyn, I arrived at Carleton without the knowledge that my non-first-generation peers received from their parent(s), specifying how to be a college student. Before long, I realized that I needed to adjust my approach of "I can do everything by myself just like I did in high school." To succeed at Carleton, it would require utilizing campus resources and building connections with members of the campus community.
Every time I've met with a Carleton professor during their office hours, they have patiently broken down a challenging concept or provided me with resources. Outside of the classroom, TRIO/Student Support Services has anticipated my needs by delivering tailored programming and resources: academic advising; first-generation alumni panels (i.e., how they've overcome challenges and ended up where they are today); skill-development workshops; financial aid and tax workshops; and textbook assistance.
My time at Carleton is flying by. My friends, some recent graduates, have secured internships and employment through their existing connections. Since I arrived at Carleton without a professional network intact, I worked with the Career Center to develop professional skills to jumpstart building my network. While acquiring new skills and experience is daunting at times, it has shown me that people want to help others, challenges are opportunities to grow, and my effort and attitude determine my abilities.