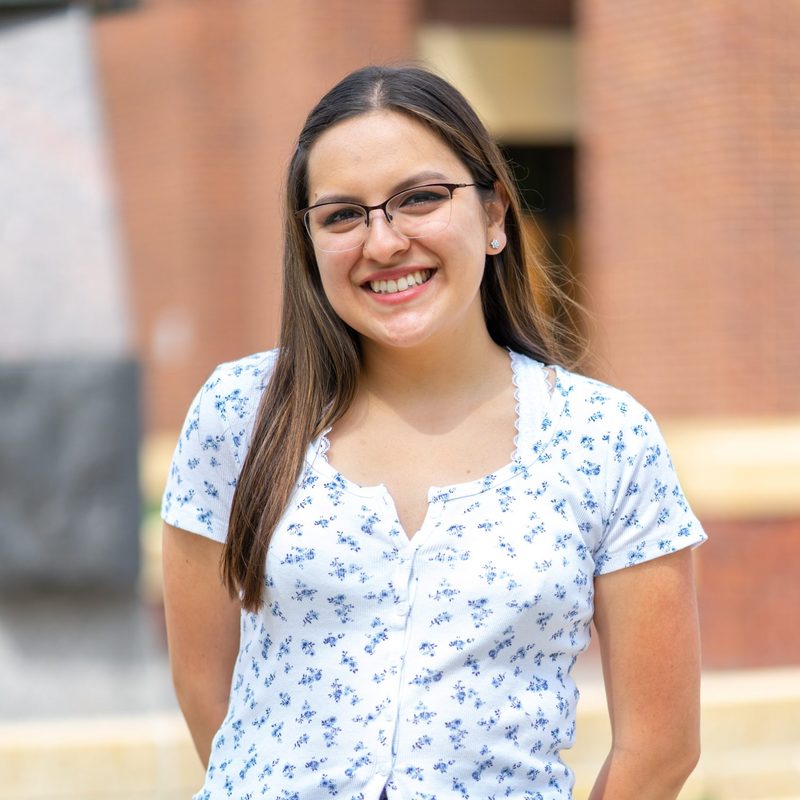 Hometown: Glen Ellyn, IL
Major: American Studies
Minor: French
Organizations & Activities: LASO (Co-Chair), Define American (Vice-President), House manager at Casa Del Sol, TRIO Peer Leader, CPA mentor for pre-nursing, Mellon Mays Scholar
What's your favorite place at Carleton?
Anderson Hall — I love Anderson's modern vibe! I also love 4th Libe. I like the Rookery a lot, I am there very often. I feel very calm in there and get a lot of work done
What does it mean for you to be the first in your family to go to college? 
I am the oldest, so I am the first to go through the process. That has meant a lot to my family, knowing that it will be a chain reaction for my younger sibling. For me, it means accomplishing my dreams and the dreams of my parents. An opportunity to make them proud and start this chain reaction for my family.
All of my accomplishments aren't only my own. It is also my family's because of all their constant support; whether that's a phone call to make sure I'm OK, not understanding why I am stressing over this Chemistry exam but being there in solidarity too, or simply being there for me when I am home. Everything they have done for me in terms of providing the resources that they could throughout my whole life has led me to this moment. My accomplishments are theirs, always!
Whatever happens after Carleton will be for them. I am proud to be able to set a better life for all of us, because my goal is to provide them a better life. Everything they have given me, I want to be able to return back. They'll know — the moment that I cross the stage, that is OUR accomplishment.
What would you want people to know about being First-Gen at Carleton?
I think something that is important is being First-Gen is such a significant point of pride, but it also comes with a lot of challenges and strengths. I would say being First-Gen at Carleton means that there is a community here that you can connect with and will help you in learning a lot  about yourself. Carleton is a great place to learn what that means. Being First-Gen at Carleton means figuring out all of your strengths and figuring out how they work together. And you find your community and you all grow together. Being First-Gen at Carleton is something that I am super proud of, and I couldn't be happier that I am here. 
What sort of support have you received at Carleton?
I have found most of my help in the TRIO community, both as a participant and for the past two years as a TRIO Peer Leader. Being in a community with others who share my background has meant a great deal to me. Through TRIO, it has given me a community of friends and mentors. People who I know I can count on, people who are my support system, people who are willing to help all the time, whether that is: giving advice or simply being an open arm and a shoulder to cry on, if that is ever needed. There is a connection in the TRIO community.
Another place I have felt supported is the connection I have established with professors (which has taken me a long time to get there), which is how I started asking for help. It was an inside struggle being able to open up and ask for help, to know that professors are there because they want to help. I think I could still do better but it was that inner battle of knowing I can ask for help, because there is nothing wrong with that.
Do you have any advice for other First-Gen students?
If I could say something that is important, that it is OK to ask for help. I think a lot of people interpret that as a weakness, but now I know that I have it on my own but that doesn't mean I can't have support from my communities and people I have come to know at Carleton.