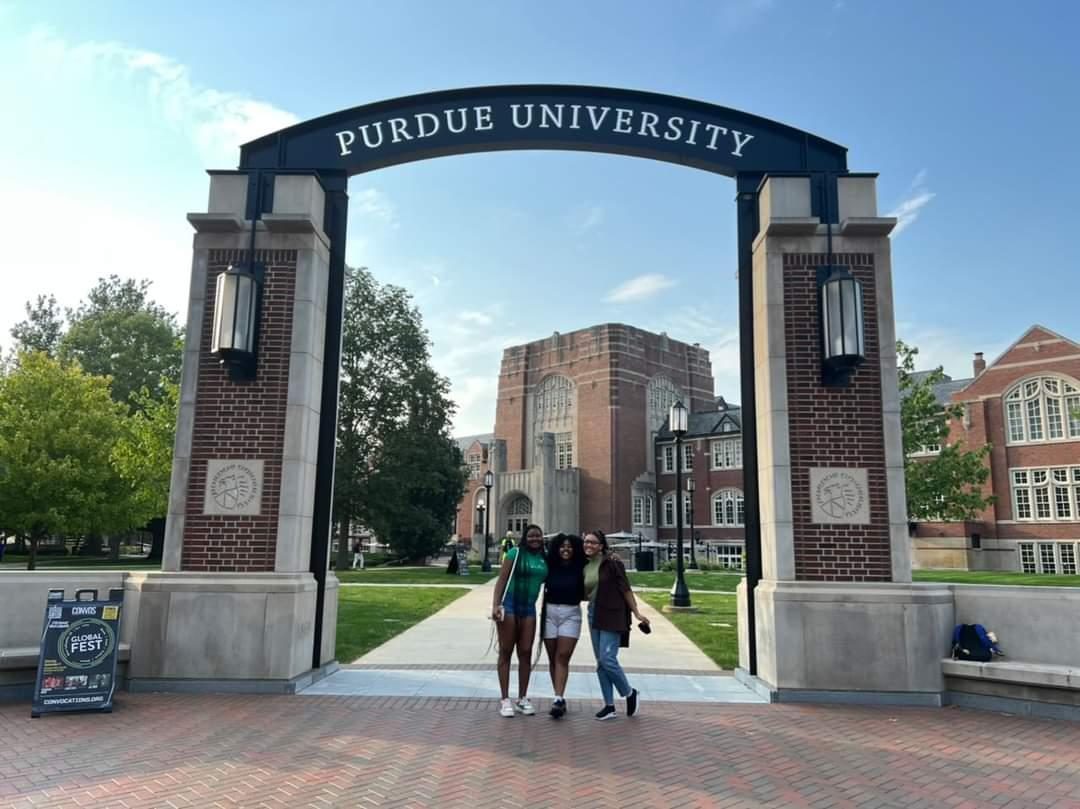 We asked Helen Desta '23, Julia Dunn '25, and Adina Holloway '24, Carleton's GRADx participants for the 2022-2023 academic year, about their experiences in the program.
Why did you decide to apply for GRADx?
Helen Desta: I decided to apply for GRADx because I did not know anything about graduate school, except that I am interested in being in a graduate program in the future. If I had not heard about GRADx from Marynel, I would have asked people about their graduate school experiences. I thought that I would benefit from the information in GRADx and that I would be able to share the information I learn with other people who are thinking about graduate school.
Julia Dunn: Coming to Carleton exposed me to the possibility of completing a graduate program in the US, something that I had never thought about before. As neither of my parents have pursued graduate studies, however, I felt very out of my depth when thinking about the process of applying. I truly did not know much about what grad school even meant beyond the name, and so I was eager for an opportunity that could help me better understand what such programs entailed. Hence, GRADx felt like the perfect space for me to explore this possibility even further, surrounded by students from underrepresented backgrounds who shared similar experiences with me and had the same questions as I did about where to start. I also applied to GRADx not just to learn more about the in's and out's grad school applications and programs, but also to get to know more about the types of personal support that existed for a low-income, international, BIPOC student like myself in these rigorous programs.
Adina Holloway: I decided to apply for GRADx because I was unsure about what I would do after graduation. I also didn't know much about graduate school, so I wanted to learn if it would truly be something I wanted to commit to in the future.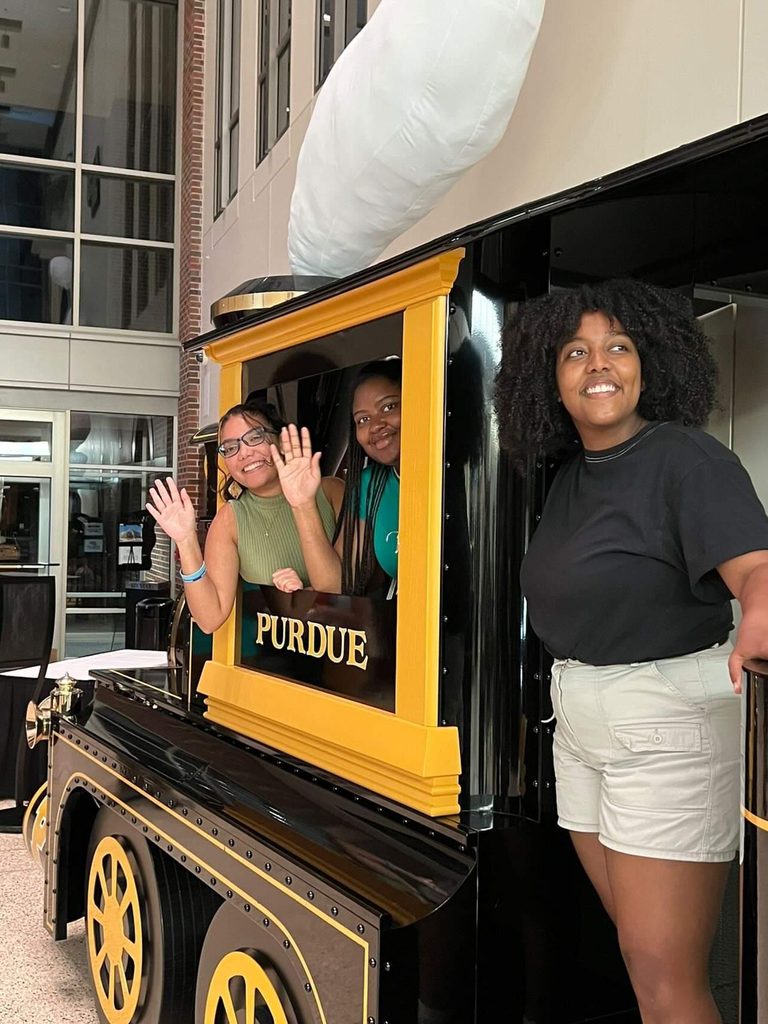 What has been the most useful/valuable thing about participating in this program?
Helen Desta: The most valuable thing about participating in this program is that I have learned about different things that I will have to consider when entering graduate school. On the first trip to Purdue University, GRADx held multiple panels: a current graduate student panel, a campus resources panel, and a professor/mentor panel. Each panel offered a different insight into what to think about when applying to or being in graduate school. For example, I had not considered things like housing or community building when thinking about graduate school. During the campus resources panel, I was reminded that I can still use multicultural communal spaces, talk to staff members there, and attend events. I had also not considered housing options; one of the panelists representing housing shared that they often guide graduate students on how to lease an off-campus house.
Julia Dunn: I have learned many useful things as it pertains to the grad school application process, like networking and building your personal "board of advisors", choosing mentors who share similar interests to you and who can support you personally through your program, and assessing the benefits that each program offers its students. However, I think the most valuable piece of advice I have received thus far is about how to confront impostor syndrome. On our visit to Purdue University in Indiana, we were shown a presentation on fighting impostor syndrome and engaged in deep discussion about the ways in which we each have internalized this idea that we are not good enough. I was very encouraged after this discussion, as I struggle with these feelings which often hinder me from jumping at new, beneficial opportunities out of the fear that I will fail. Hearing everyone speak about these experiences and having someone in a senior position at the University talk us through how to be kind to ourselves through the application process was extremely helpful and refreshing, an experience which I believe I can apply to every aspect of my life and not solely grad school.
Adina Holloway: The program gave me guidance on what I need to be doing in undergrad to prepare for graduate school and how to advocate for myself even if I choose not to attend.
How has GRADx affected your plans for the future?
Helen Desta: GRADx has made me think more about the application process for graduate programs, and when I would like to do it. I do not plan to immediately attend graduate school after graduating from Carleton, but there is more I have to consider as I put a hold on applying. Things like housing (as I referred to in my answer to the previous question), the type of program I am interested in (Ph.D. or Master's), and mentorship.
Julia Dunn: GRADx has led me to think much more deeply about my prospects for grad school, even encouraging me to think about a prospective career in academia as a Professor. Though I am only in my second year at Carleton, as an international student, thinking about my plans after college has become increasingly pressing. Nonetheless, I still have time to think about my future, and am grateful for the GradX opportunity to help me on this journey of self-reflection!
Adina Holloway: GRADx has given me options on formulating a plan for the future. It made me feel more confident that I have a plan whether I do or do not go to graduate school.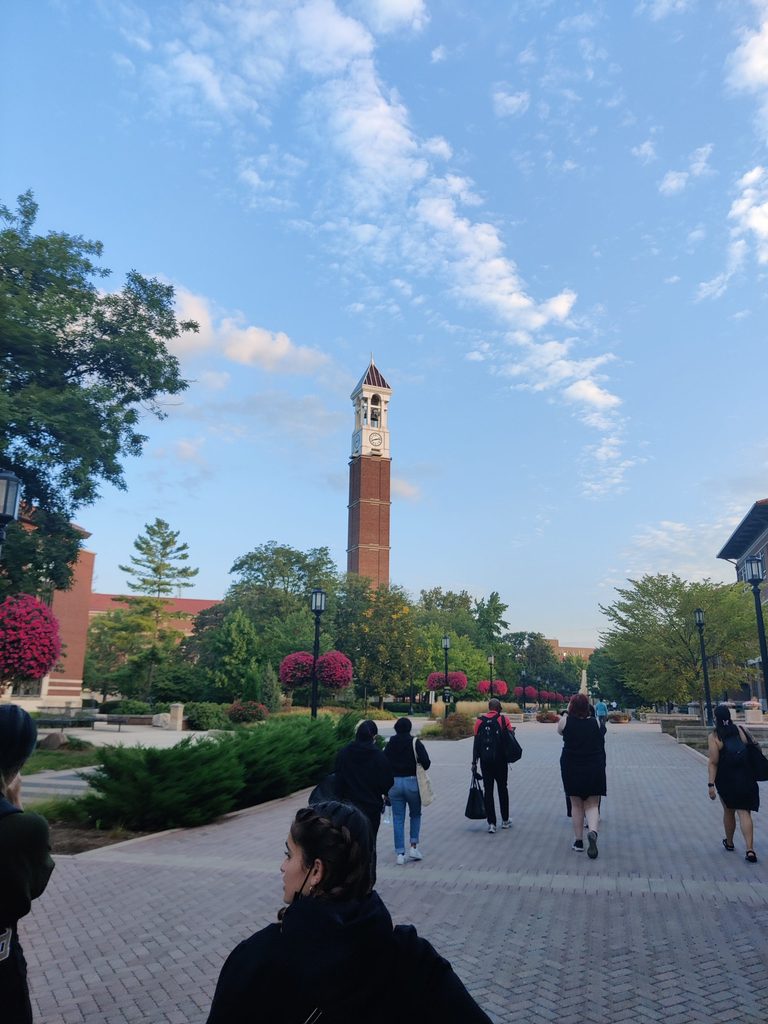 What advice do you have for students considering the GRADx opportunity?
Helen Desta: My advice for students who are considering applying for GRADx is to apply and use the opportunity to ask any type of questions you have. GRADx has made me realize that applying to graduate school can be similar to applying to an undergraduate school. There are still people who you can reach out to and ask questions who work to support all students applying to their school, no matter the program.
Julia Dunn: Think about the professors who you have bonded with most closely or whose classes you have enjoyed the most over the last year and speak to them more about the opportunity. A great recommendation goes a long way, but it is also extremely valuable to build up relationships with members of the academic community with whom you might one day be colleagues!
Adina Holloway: I would advise them to think about their personal strengths besides their academic abilities and how those strengths fit into their educational goals or goals for the program.
Is there anything else you'd like to add?
Helen Desta: GRADx surrounds you with other students who also attend small colleges and are thinking about graduate schools, so there is a related experience in choosing a small college and visiting Big Ten schools that are much larger than your college.
Julia Dunn: If you're actively thinking about grad school, go for it and apply! As persons from underrepresented backgrounds, the academic community will not just benefit from hearing the things you have to say, but actively needs to make space for what you bring to the table. Your voice, your ideas, your work matters; and GRADx is a great place to start the process :)!
Adina Holloway: Aside from the knowledge I gained, the program was a really fun experience. I was able to connect with some wonderful people and get a look into life at a university.