Applications for Carleton-funded fellowships are due March 28, 2023!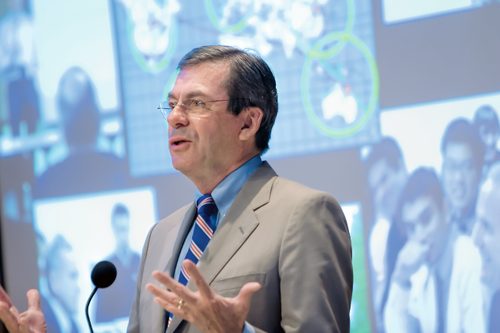 The Professor Roy F. Grow Endowed Fellowship Fund was established in 2014 by Dr. Michael J. Hasenstab '95 and Mary Ann Hasenstab as a meaningful and lasting tribute to Professor Grow's role at Carleton. Roy F. Grow P'03, Frank B. Kellogg Professor of International Relations, served Carleton's political science department for 33 years, significantly impacting the college and its students.
Roy is recognized by colleagues and students as a thoughtful and distinguished leader, teacher, and mentor, and is remembered for his abiding relationships and infinite devotion to his students. Roy was an avid scholar of Asian culture, and he played a catalytic role in many Carleton students' study abroad experiences, personally leading more than 400 students on trips to China. He encouraged them to explore the world in unconventional ways, and with his guidance and support, scores of them did.
The students supported by this fund will have the opportunity to embrace the adventurous spirit modeled by Roy.
Purpose
To support a significant student experience in Asia (Central, East, South, and Southeast Asia; countries of the Middle East are excluded) during summer or winter break, which may include research, travel, service learning or internship projects. Funds may be requested to cover travel expenses, to replace lost wages, or to enable at-home preparation. These trips are often developed with encouragement and guidance from faculty members.
Funding
While there is no per-fellowship limit attached to use of the Professor Roy F. Grow Fund, applicant budgets are reviewed carefully to ensure they are reasonable and proportionate to the activity proposed.
Eligibility
First-year, sophomore and junior students are eligible to apply;
Students in any major are eligible;
All applicants must be in good academic standing.
Institutional Review Board
Occasionally, Carleton-funded fellowship research involving human subjects requires Institutional Review Board (IRB) approval. Be sure to consult with your mentors to understand if this applies to you! Funding for any projects requiring IRB approval will be released once it is received.
Questions?
Please contact Marynel Ryan Van Zee, Director of Student Fellowships, Laird 131, x4300