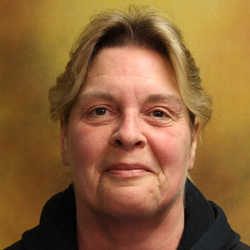 Teresa Pittman, age 56, died of complications related to COVID-19 on February 9. Teresa started work as a custodian in June 1997 and, during her almost 24 years on campus, she worked in many buildings, including the Rec Center, Cowling, Laird, Old Music, Goodhue, Cassat, Faculty Club, and most recently in Anderson, Olin, Hulings and Evans. She made connections across campus with people in those buildings and beyond.
Teresa was known as a wonderful teammate in Custodial Services, always reaching out and trying to lift people up. She was warm and outgoing, sharing a smile or a kind word with those around her. She was highly regarded as a colleague and will be deeply missed.
Teresa was married and had two children and three stepchildren, including Carrie Akemann in Bon Appetit. A more complete obituary and information about a memorial service will be forthcoming. Teresa's family has set up a GoFundMe site to help cover medical and funeral costs.