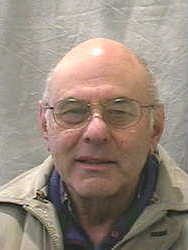 Seymour (Sy) Schuster, age 94, died on October 31st. He had tested positive for COVID-19 on October 28. Sy taught Mathematics at Carleton, beginning as a visiting associate professor in 1958. For 5 years, he led the College Geometry Project, returning to Carleton in 1968, and retiring as the Laird Professor of Mathematics and the Liberal Arts, Emeritus, in 1994.
Sy taught advanced courses in geometry, combinatorial theory, and graph theory, as well as entry level courses, and published on these topics throughout his life. He was an enthusiastic and popular teacher, welcoming conversations on many subjects with students outside of class.
Sy was equally active in departmental efforts, contributing ideas and hard work, and mentoring younger colleagues. He was also very active in campus committees, including the Committee on Social Responsibility in Investment, the Faculty Affairs and Personnel Committees, and the committees that drafted statements on discrimination and academic freedom, and policies on sexual misconduct.
Sy had a wide-ranging influence on the teaching of mathematics. In 1961, Sy co-convened a conference at Carleton about undergraduates doing research in math. This was the first larger conversation about this idea, leading to thousands of students across the country doing research annually now. Between 1963 and 1968, Sy received a National Science Foundation grant to create The College Geometry Project to improve the quality of math education for high school teachers. Bringing together mathematicians and filmmakers, they made instructional videos for teachers.
Sy was also very involved in county and state politics, serving on the State Central Committee of the DFL Party for 10 years. He was instrumental in helping to reverse Paul Wellstone's tenure denial at Carleton and made crucial contributions to each of Wellstone's Senate campaigns. Northfield residents remember Sy helping to teach high school students about activism during the Vietnam War and supporting the work of the Organization for a Better Rice County (OBRC), a community organization written about in Wellstone's How the Rural Poor Got Power.
Sy also knew how to have fun, playing in a monthly poker game for over 40 years, going on fishing trips with friends, and backpacking and fly fishing in Wyoming and Montana. His ability to connect with people was evident throughout his life, including with current students at Jewish holiday celebrations. One colleague wrote that "Sy combined deep seriousness, compassion, and wit more thoroughly than anyone else I have ever known."
---
Read more about Sy's life in a StarTribune article.
Sy's family has created a memorial website that includes a more detailed obituary, a photo gallery, a way to leave remembrances, and a link to donate to the Sy Schuster Award for Leadership in Diversity and Inclusion given by Carleton's Department of Mathematics and Statistics.
If you'd like to make a memorial gift to Carleton, please indicate "in memory of Sy Schuster" on your check or in the box on the online giving form.
---
Sy delivered the following address at the annual Honors Convocation in May 1994.