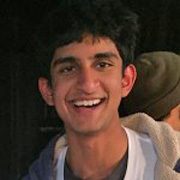 Sidharth (Sid) Ramakrishnan '19 died on September 21, 2016 at Carleton. Sid was intending to major in physics or chemistry with a dream of curing mental illnesses. He was known to his friends and faculty as brilliant, thoughtful, passionate, caring, and complex.  
Sid was born in Connecticut in 1997. After attending elementary school in Bethel, CT, he moved to Boxborough, MA, skipped sixth grade, and graduated from Acton-Boxborough high school in 2014 as a National Merit Scholar. He avidly listened to classical music and enjoyed Brahms, Chopin, Liszt, Schumann, Mozart and Beethoven. He played clarinet in the Massachusetts Youth Symphony Project and was also a member of the Carleton College Orchestra.
His research interests included error analysis of measurements used in health diagnosis, brain chemistry, and bipolar disorder, and, most recently, statistical analysis to infer probability of cardiac arrest in women. Sidharth's strong love of reading, particularly Wikipedia, led him to prefer self-study to classroom learning; his laptop was his favorite accessory. He was a strong proponent of open-source and knowledge-sharing; LaTeX, Emacs and its myriad modes, R, and Python were his preferred programs. Sidharth reveled in the simplicity and beauty of nature; he enjoyed spending time with animals and conquering difficult hikes. Other hobbies included Go, Chess, and table tennis. He was also compassionate towards the less-fortunate, and wanted to alleviate suffering.
A large community gathering was held on September 21st at the Chapel, and Sid's family held a memorial service in Massachusetts on October 1st.
---
Students who lost their lives while enrolled at Carleton are commemorated in the Carleton Student Memorial.