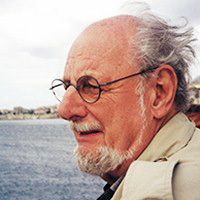 Russell Langworthy died on July 1st at a hospice center in Rhode Island at the age of 92. Russ taught Sociology and Anthropology at Carleton from 1953 until 1986. His work focused on economic and social development, including land tenure systems, especially in India, Italy, and later in Ukraine and the Baltic countries.
Russell's interest in international study and travel began with his heroic work in an intelligence unit during WWII. But his father's work as a thresherman in western New York launched Russell's hobby of restoring antique tractors, an interest that was amplified by the people and agricultural equipment on Machinery Hill at the Minnesota State Fair.
A more complete obituary can be found on the Monahan Drabble Sherman Funeral Home website.
A funeral service will be held on August 9th in Providence, R.I., with a private burial in Northfield in the fall.
In lieu of flowers, memorials are preferred to the scholarship fund of Alfred University. Gifts can be made to Alfred University and sent to University Relations, 1 Saxon Drive, Alfred, NY 14802. Please put Russell's name in the memo line on the check.