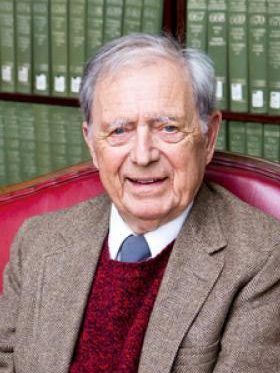 Edward Reed Whittemore II passed away on Friday, April 6th after a long illness. He was 92. Reed taught at Carleton in the English department, from 1947 to 1969. He founded "The ­Carleton Miscellany," a nationally acclaimed literary magazine published quarterly at Carleton from 1960-1980.
After leaving Carleton, Reed taught at the University of Maryland through the 80s, and served as literary editor of "The New Republic" (1969-1973). He was twice the Consultant in Poetry to the Library of Congress, now called U.S. Poet Laureate, as well as the Poet Laureate of Maryland. Among his 11 collections of poetry, "The Mother's Breast and the Father's House" (1974) was nominated for a National Book Award. He also published 9 works of prose, including 2007's, Against the Grain: The Literary Life of a Poet, a memoir in which Reed writes of himself, R, from a unique third-person point of view.
Reed leaves behind his wife, Helen, 3 children, and 6 grandchildren. A memorial service will be held at 3 p.m. on Thursday, April 12 at Our Lady of Victory Catholic Church, 4835 MacArthur Blvd N.W., Washington, DC 20007. Please keep all of his family and friends in your thoughts and prayers.