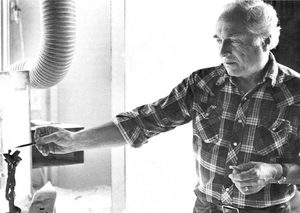 It is my very sad duty to inform you of the death of Raymond "Jake" Jacobson, age 91, on Wednesday, May 2, 2012, after a long battle with Parkinson's disease.
Jake taught art, especially sculpture, for 31 years at Carleton, arriving in 1955 as an assistant professor of art and retiring as professor emeritus in 1986. Jake was known for the vast amounts of time and wisdom he gave both to his students and to his colleagues. He was patient, but professional, expecting the highest quality.
In 1986, his former Carleton colleague, Albert Elsen, wrote of Jake's artistic intent: "to create a work that would be equal to the marvel and mystery that lie in the shadows of nature… Jake's tact as a sculptor is to make art like himself: sound and solid, never intimidating, but quietly persuasive over time." He also said of Jake's drawings that they "reveal even more of the man than his work in metal: a constant alertness, a warming range of sensitivity, a wider responsiveness to his daily encounter with forms." Jake's art continues to grace this campus, Northfield, and many homes, and his legacy as a teacher and mentor will be with us for a long time to come.
The memorial service for Jake Jacobson will be on Saturday, May 12, at 11 a.m., in Carleton Skinner Memorial Chapel. There will be a visitation for family and friends beginning one hour before the service. A more complete obituary can be found in the Northfield News. Arrangements are through the Bierman Funeral Home of Northfield. You can learn more about Jake, his life and art on his website, rayjacobson.com.
Please keep his wife, Jeanne, and all of their family and friends, as well as Jake's colleagues and former students, in your thoughts and prayers.
In sorrow and faith,
Carolyn Fure-Slocum '82
Chaplain