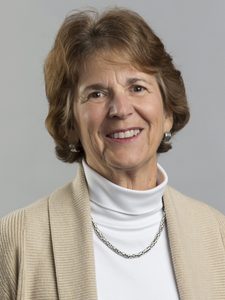 Nancy Wilkie, age 78, died at home in Northfield on January 18th after a long battle with cancer. Nancy taught at Carleton for 39 years, beginning as an adjunct instructor in Classics in 1974, adding Sociology/Anthropology as one of her home departments, creating and directing the Archaeology program at Carleton, becoming an "honorary member" of the Geology department, and retiring as the William H. Laird Professor of Classics, Anthropology, and the Liberal Arts, Emerita.
The breadth of Nancy's academic and personal interests, her wide-ranging knowledge, and her deep connection and collaboration with many individuals make it difficult for her friends, colleagues, students, and fellow travelers to summarize even her Carleton career. Her academic work included projects in Greece, Egypt, Nepal, and Sri Lanka. Nancy also wrote articles about, directed off-campus study programs, and led at least 18 alumni tours between 1993 and 2019 to many more places, including Ethiopia, Kenya, Albania, Croatia, Italy, and the Grand Canyon.
Nancy was professionally active with the Archaeology Institute of America, receiving their 2021 Outstanding Public Service Award just recently. She was a founding board member, secretary, and then president of the U.S. Committee of the Blue Shield which seeks to preserve cultural heritage around the world, especially during armed conflict. For many years, Nancy also served on the Cultural Property Advisory Committee (CPAC) of the U.S. Department of State.