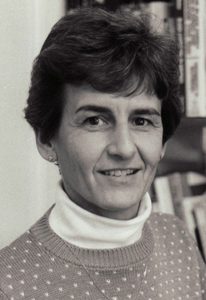 Mylla Urban, age 78, died on March 29th after a long illness. Mylla came to Carleton in 1969, coaching field hockey, swimming, and softball. Her gifts for connecting with people and managing programs became quickly known and she took on a wide range of roles in her 30 years at Carleton.
Mylla was named Assistant Professor of Physical Education for Women in 1977, along with coordinating Summer Programs in 1977–78. In that same year, she was also president of the Minnesota Association of Intercollegiate Athletics for Women. She was an Associate Dean of the College from 1979–1988, overseeing academic advising, supervising the offices of the Registrar and Off-Campus Studies, acting as liaison with the men's and women's athletic programs, and directing the Career Center from 1981–1988.
In 1988, Mylla was named Athletics Director with the challenge of merging the men's and women's programs, finding equity between physical education and the varsity, recreational, and intramural programs, and expanding the outgrown athletics facilities. She resigned that position in 1992 in order to return to teaching and coaching. Mylla retired in 1999 as an Emeritus Professor of Physical Education, Athletics, and Recreation.
Mylla is remembered as very warm and outgoing. She loved teaching and coaching, and cared deeply about students. She knew how to draw people out and was an excellent listener and adviser, to both students and colleagues.
Services for Mylla are pending, and we will send out more information when it is available.