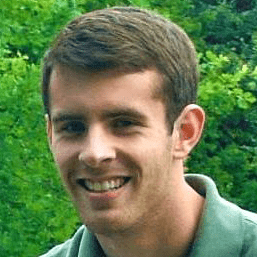 The following obituary was provided by the family of Michael Goodgame.
A college student and athlete from Westport, Michael David Goodgame, died on Feb. 28 in an automobile accident just outside Northfield, Minn., where he was studying political science at Carleton College.
Michael, age 20, was a member of Carleton's Ultimate Frisbee team which, despite the college's small enrollment and remote location, placed third in the country last year. He and three teammates were en route to the Minneapolis airport on Friday afternoon, where they were to fly to a tournament in Palo Alto, Calif. Their SUV skidded on an icy road in snowy conditions, and slammed head-on into a large truck. Two of Michael's teammates also died in the accident. A third teammate is hospitalized in stable conditions, as is the driver, who is also a Carleton student.
According to the state police, neither alcohol nor speeding played any role in the accident, and all five occupants of the car were wearing seat belts.
Born in Washington, D.C., Michael Goodgame moved to Westport with his family at age four. He attended public schools, where he was known as a diligent and curious student, an engaging writer, a respected leader, and an accomplished athlete. At Staples High School, he was elected president of the Student Assembly and co-captain of the men's swimming and diving team. He also enjoyed competing on the Water Rats club swim team, and in the recreational basketball league.
In 2005, when Michael was 12, he helped his parents and brothers organize aid to Pascagoula and the Gulf Coast after Hurricane Katrina. The town of Westport adopted Pascagoula as a sister city and hundreds of donors sent truckloads of construction and cleaning supplies, schoolbooks, clothing and other items, along with volunteers from the fire and police departments.
During the summers, Michael loved working as a junior counselor at Cape Cod Sea Camps, where he had been a camper himself, and where he influenced hundreds of young lives for the better. He also treasured vacations with his parents and two older brothers, whether to ski in Vermont, fish the Upper Delaware River, visit relatives in Mississippi and Florida, or explore exotic locations such as Damascus and Jerusalem.
At Carleton, a highly ranked liberal arts college with just 2,055 students, Michael achieved high marks in classes that ranged from Arabic to statistical analysis and political philosophy. He swam on the varsity team as a freshman, but soon was attracted to the nationally renowned Carleton Ultimate Team, known as CUT. That team travels the country to compete against squads from Division I schools that are 20 and 30 times larger — and regularly beats them to win national titles. Both Carleton and CUT gave Michael the kind of environment where he thrived: amid a group of smart, fun-loving young people with a strong sense of shared purpose, who are unashamedly kind and supportive to one another.
Michael is survived by his parents, Marcia Logan and Dan Goodgame of Westport; his brothers Clayton, a graduate student in Middle East studies at Oxford University, and Sam, an Army Ranger lieutenant in the 101st Airborne Division; his grandmothers Ruth Logan of Ft. Lauderdale, Fla., and Betty Goodgame of Pascagoula, Miss.; his aunts and uncles Shasta and Tom Brander of Mountain Brook, Ala., Shannon and Howard Nolan of Albany, N.Y., and Mary Logan of Ft. Lauderdale; his cousin Lauren Brander of New York City; and other loving relatives including Bob, Teenie, and Cheryl Goodgame of Vancleave, Miss.; Carla and Cleve Bond of Pascagoula; Nancy and Gene Jennings of Hueytown, Ala., and Julie and Darrell Loggains of Birmingham, Ala.
A memorial service for Michael will be held at on Thursday, March 6, at 4 p.m. at Christ & Holy Trinity Church, 75 Church Lane, in downtown Westport. A reception will follow in the church's Branson Hall. Burial will take place on Friday, March 7, at 11 a.m. at the Cemetery of Christ & Holy Trinity Church, 80 Kings Highway North, in Westport.
For anyone who wishes to remember Michael in a tangible way, the family asks that, in lieu of flowers, donations be written to the "CHT Church, Michael Goodgame Memorial Fund," Christ & Holy Trinity Church, 75 Church Lane, Westport, CT 06880. That fund will be used to enable underprivileged young people to participate in the sports that Michael loved.
Michael's generous spirit will live on through this effort, and through the example and inspiration he provided to everyone fortunate enough to know him.
---
A memorial service for James Adams, Michael Goodgame, and Paxton Harvieux was held in Skinner Chapel at Carleton College on April 12, 2014.
---
Students who lost their lives while enrolled at Carleton are commemorated in the Carleton Student Memorial.