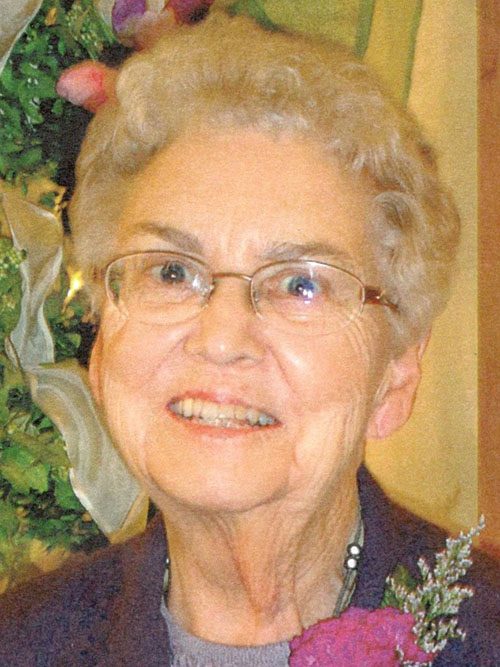 LaVon Emery died on Saturday, April 1st at Three Links here in Northfield. LaVon was a checker in the dining halls from 1998 to 2006. As in many other aspects of her life, she loved connecting with people there.
Services for LaVon were held yesterday at the Stanton United Methodist Church. A more complete obituary is below.
Please keep all of LaVon's friends and family in your thoughts and prayers.
---
LaVon Emery, age 83 of Northfield, passed away Saturday, April 1, 2017 at the Reflection Care Suites of the Three Links Care Center. Funeral Services will be 11:00 am Thursday, April 6th at the Stanton United Methodist Church with burial at the Stanton Cemetery. Visitation is 4-7 pm Wednesday at the Bierman Funeral Home in Northfield and at the Church on Thursday one hour prior to services.
LaVonne Corrine Emery was born on the family farm near Randolph, daughter of Clarence and Leona (Schuler) Lee. She was raised on her parent's farm and attended school in Randolph, graduating from Randolph High School in 1951. She was united in marriage to Kenneth Emery on February 14, 1953 at the Randolph Methodist Church. Their first home was in Stanton and in 1955 they moved to their own farm in Northfield Township where they dairy farmed and raised their five daughters.
LaVon was active on the farm, driving tractor when needed and caring for the calves. When the dairy herd was sold in 1987 she began working at the Dahl House warehouse in Northfield, then baking, first at Hattie's Coffee Shop and then at Petricka's County Market Bakery. In 1998 she became a meal ticket checker at Carleton College Food Services. Here she got to know many of the college students which she really enjoyed, retiring in 2006.
LaVon and Ken enjoyed dancing and playing cards, taking bus tours to places like Branson, Nashville, and out East to see the cherry blossoms in the spring. She was active in her church and a member of the Ladies Aide, and was a 4H Leader with the Big Giants where her girls were members. She loved time spent with her grandchildren and going to their sporting events and school activities, teaching them to sew, and playing cards and board games with them.
LaVon is survived by daughters Debbie (Mike) Fischbach of Northfield, Darlene (Mike) Witt of Northfield, Cindy (Ralph) Neil of Dennison, Lori (Brian) Malecha of Northfield, Judy (Doug Kaufman) Emery of Lake Linden, MI; brother Robert (Betty) Lee of Randolph; 10 grandchildren; 3 great granddaughters; and many nieces and nephews. She was preceded in death by her parents; husband Kenneth; and brother and sister-in-law Roger and Dora Lee.