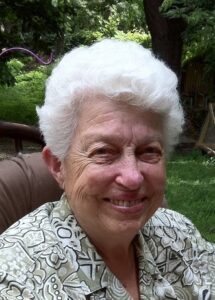 LaNelle Olsen, age 89, died on March 6th in Northfield. LaNelle was a Development Staff Associate at Carleton from 1974–1979.
Beyond her work in Development at both colleges, LaNelle was known for her energy, good humor, and commitment to peace and social justice. LaNelle served on the Northfield City Council and Planning Commission, was a board member of the Community Action Center, the Northfield Lesbian, Gay, Bisexual and Transgender Youth Committee, and the Mill Towns State Trail. She was active in the creation and activities of the Northfield League of Women Voters and was a founding member of the Northfield Human Rights Commission and Quaker meetings in Northfield.
A meeting for worship in her memory was held on Monday, March 11, at the Cannon Valley Friends Meeting House. A more complete obituary can be found on the Bierman Funeral Home website.