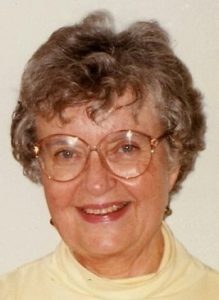 Joan Reitz, 91, died on Saturday, May 19th here in Northfield. Joan worked at Carleton first as secretary in the Art Department in 1975-1976, and then for 13 years as secretary to the Chaplain until her retirement in 1989. Friends and colleagues describe Joan as unfailingly gracious and kind to all and a loyal friend. She was devoted to her family, Carleton, its students, her church, and many community groups.
Joan is survived by her husband, Bob, who taught Physics at Carleton, and their four children, 8 grandchildren, and 8 great-grandchildren. A more complete obituary can be found on the Bierman Funeral Home website.
A memorial service to celebrate her life will be held at First United Church of Christ in Northfield, Minnesota on Friday, June 15th, at 2pm. Visitation will be one hour before the service at the church. Gifts can be made in Joan's memory to the First United Church of Christ or donor's choice.