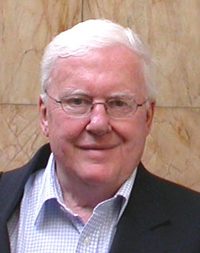 George Soule died suddenly after a brief illness on Dec. 24th. He was 81 years old. A Carleton graduate of 1951, George taught English at Carleton for 33 years, beginning in 1962. He was a much loved professor, teaching on a broad array of writers and engaging students in discussions about beauty, truth, art, and life. After his retirement in 1995, he continued to teach and give talks in many settings, including the Cannon Valley Collegium and local and international community groups. A true believer in the liberal arts, George appeared five times on Jeapordy in 1990 and was the 1990 champion of the Senior Tournament. George's wit and wisdom will be sorely missed.
George is survived by his wife, Carolyn Soule, the Administrative Assistant in English, his daughter, Kate Soule, and two granddaughters, Taylor and Zoe Soule.
In lieu of flowers, the family has asked that contributions may be made to the George Soule Memorial Fund at Carleton or to the Cannon Valley Elder Collegium (c/o Barbara Jenkins, CVEC Finance Director, 514 Sumner St., Northfield).
Please continue to keep Carolyn and all of George's family and friends in your thoughts and prayers.
In sorrow and faith,
Carolyn