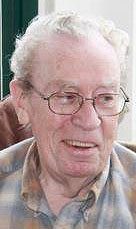 It is my sad duty to tell you of the death of George McCorkell, age 79, on June 4th here in Northfield. George worked as a painter at Carleton from 1987 to 1997. He had also done a considerable amount of painting for Carleton before that, while working for Young's Painting of Dundas. George was known as a very friendly, personable, courteous, and sincere person. He enjoyed the camaraderie of co-workers, including a weekly golf outing in which George was usually the leader on the scoreboard, collecting the small betting pool.
George's wife, Lavonne, worked at the Carleton Library for two decades prior to her 1999 retirement. Lavonne passed away in 2010. George is survived by daughter Theresa Lundy of Botswana, Africa; sons George and wife Cathy of Stevens Point, WI, David and wife Kimberly of Moreno, CA, Mark and wife Judy of Madison, WI, Jim (Carleton Class of 1990) and wife Chris Greenhow of St. Paul; sister Doris Pumper of Northfield; 12 grandchildren and 12 great grandchildren.
Funeral services will be held 2:00 pm Sunday, June 9th at the Stanton United Methodist Church with burial at the Stanton Cemetery. Visitation will be 3-7:00 pm Saturday, June 8th at the Bierman Funeral Home and on Sunday one hour prior to the service at the church.
Please keep all of George's family and friends in your thoughts and prayers.
In sorrow and faith,
Carolyn Fure-Slocum
Chaplain