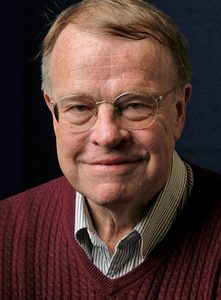 Gary Iseminger, age 85, died on December 11th in Northfield. Gary taught Philosophy at Carleton for 42 years, beginning in 1962 as an instructor and retiring in 2004 as the Stephen R. Lewis Jr. Professor of Philosophy & Liberal Learning, Emeritus. Among his many gifts, Gary was well-known for helping students grapple deeply with complex philosophical issues, inspiring them in the philosophy of art, aesthetics, music, logic, law, medical ethics, epistemology, and the history of philosophy.
Gary was an internationally known philosopher, publishing several books and numerous articles and reviews on aesthetics and logic, including his latest book, The Aesthetic Function of Art (2004). He was a leader in American philosophical aesthetics and was on the editorial board of the Journal of Aesthetics and Art Criticism. During retirement or sabbaticals, he held visiting professorships in many places, including at Lingnan University, Hong Kong; Trinity College, Dublin; King's College, London; the London School of Economics; and the Mayo Clinic School of Medicine. He was also invited to lecture around the world.
Gary took an active role in the life of the Philosophy Department and the college, chairing or serving on almost every elected committee, including College Council, the Educational Policy Committee (now ECC), and the Tenure and Development Committee (now FPC). He also coached varsity tennis at Carleton, including a team that won the conference title in 1967.
Gary's interest in the philosophy of aesthetics and music was grounded in his own musical abilities. He played the vibraphone in Occasional Jazz in Northfield and in Aesthetic Attitude at the American Aesthetics Society meetings. He played the timpani in the Cannon Valley Regional Orchestra and even played once with the Minnesota Orchestra. He also sang at Tanglewood and composed for the Carleton Players and the Northfield Arts Guild.
Gary is survived by his wife, Andrea Grove Iseminger '59, who was Carleton's Off-Campus Studies Director; two children; and two grandchildren. See the family's more complete obituary.