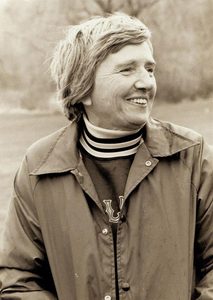 Eleanor "Ele" Hansen, age 92, passed away on Saturday, July 20 in Northfield. Hired by President Gould in 1952, Ele chaired the Women's Physical Education Department, taught PE classes, and coached women's softball and cross-country for 34 years, until her retirement in 1986. She remained such a strong supporter of Carleton and individual members of the college community that many didn't feel she ever really retired. Ele had a joyful approach to life that was infectious and uplifting.
Together with Pat Lamb, her life partner of 52 years, Ele advocated for women's physical education and other issues with a gentle but firm hand. Because of their work, Carleton was ahead of its time in providing a wide range of PE classes and resources. Ele was a role model for generations of Carleton women students who were encouraged by her to be and become themselves. "The Women's Gym" (Cowling Recreation Center) was built in 1965 through Ele's strong encouragement and became a center of the feminist movement on campus.
In addition to being revered by students, Ele was greatly respected by faculty and staff throughout the college. Jerry Mohrig writes that when he was hired in Chemistry by Dick Ramette, he was told that Chemistry was the second best department on campus. He asked which department was the best, and Dick replied: "Women's Physical Education. Ele Hansen is the Chair."
A Mass of Christian Burial was held at The Church of St Dominic in Northfield on Thursday, July 25. Learn more about Ele Hansen in her full obituary, courtesy of Bierman funeral home.
Ele was held in the highest regards by those who knew her and many people touched by her spirit wanted to share how she influenced their lives. Many letters were collected sharing stories of Ele and thanking her for the impact she had on Women's Athletics. Please enjoy reading these "Letters to Ele."
A Carleton memorial service was held on Friday, October 18 in Skinner Chapel. A video of the service is below.