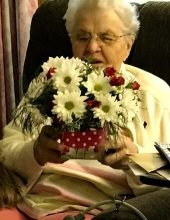 Charlotte Lobitz, age 96, died on April 22nd in Mt Horeb, WI. Charlotte worked in the Carleton Library from 1971 to 1985, starting as an Assistant in Technical Services and then becoming an Associate in Public Services and Reserves, where she worked closely with faculty members and her crew of student employees. She had boundless energy, sharing her positive and honest outlook with others. At library coffee breaks, the staff often benefited from her delicious baked goods and stories about her mother, children, grandchildren, and garden.
Charlotte led a remarkable life. She was born in East Prussia, married a handsome soldier (Heinz Lobitz, who worked as a Carleton carpenter from 1955-1983), and escaped the advancing Russian army on foot with a newborn to displaced persons' camps. The family immigrated to the U.S. in 1955, settling in Northfield. In each place she lived, Charlotte grew gardens, instilled a sense of adventure, and welcomed all.
Services for Charlotte will be held at a later date. See the full obituary for Charlotte "Buddy" Lobitz.