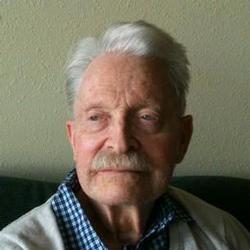 Charles Yale Pfoutz, age 90, died on Saturday, February 14th at the Three Links Care Center in Northfield. Yale worked at Carleton for 30 years, beginning in 1959 as the director of non-academic personnel, and then becoming the assistant business manager, assistant treasurer, business manager, personnel director, and benefits administrator. He retired in 1989. Yale is described as being a great colleague, dependable and hard working, quietly keeping many aspects of the college running smoothly. His dedication and good work continue to shape the college.
Yale is survived by sons Terry of Northfield, Robin and wife Arianne of Montague, Massachusetts, Tom of Sedona, AZ, and a granddaughter. A complete obituary will be forthcoming.
A funeral service will be on Friday, February 20th, at 3pm, at All Saints Episcopal Church in Northfield. Visitation will be 1 hour prior to the service at the church. Funeral arrangements by the Bierman Funeral Home.
Please keep all of Yale's family, friends, and former colleagues in your thoughts and prayers.
In sorrow,
Carolyn Fure-Slocum
College Chaplain